The year 2021 continues to surprise beauty addicts with lots of innovations also in the make-up sector. The desire to return to a new normality has led many brands to create cosmetic collections with the goal to illuminate the face, in particular the look and to embellish the complexion.
Shimmer eyeshadows, highlighters with super performing formulas are just some of the trendy cosmetics for this year. Here is our guide to the most loved and requested make-up products matched with our packaging.
Sun-kissed make-up: foundations for luminous skin
To prepare yourself in the best way for the summer and have a warm and bright complexion, very popular will be the glowy foundations. These are formulations that can give instant perfection to the skin, improving dyschromia, dark spots and uneven tone.
For such precious products, we recommend our 30 ml Venus bottle in transparent glass, a glam but at the same time practical pack to carry with you at all times of the day.
3D effect blush
Compact or liquid, blush is a must-have product for a sophisticated and elegant look. To obtain a 3D effect, apply it to the cheekbones, paying attention to the shade of the color pigments: the result will be surprising and will allow you to obtain a healthier color immediately.
Discover in our e-shop the packaging dedicated to blush and eyeshadows, in particular the new Compact Magnet L and Follie, exclusive packs that will make your make-up collection unique and eye-catching.
Volumizing mascaras for a hypnotic look
An intense and bold look is every woman's dream. Ending the false eyelashes trend, volumizing mascaras will have great success in 2021. However, it is necessary to choose the right product enriched with natural ingredients, able to make lashes thick without irritating the eye.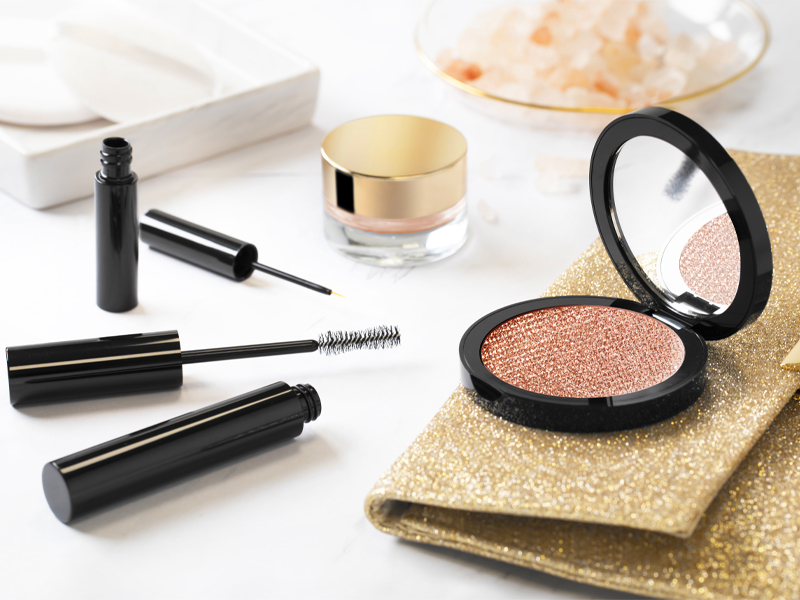 Our Manhattan mascara is the perfect pack that allows you to apply the formulation easily and evenly from the very first brush, creating a dramatic and super intense look.
Visit our e-shop and discover all our packaging selection dedicated to make-up: just a few clicks to create an exclusive and modern collection.