Whether for business or pleasure, no one should have to give up their daily beauty products while travelling: for many people, taking their favourite face cleanser or perfume with them is not just a pampering but can sometimes also mean taking a bit of 'home' with them.
According to the NPD Group, in 2019, the travel format market totalled $1.3 billion in sales in the United States, a 5 per cent increase over the previous year, and in fact there are now many beauty brands that have decided to reintroduce the best-sellers of their cosmetic lines in a travel version that can be purchased, slipped into a suitcase and used during the summer holidays or for a business trip.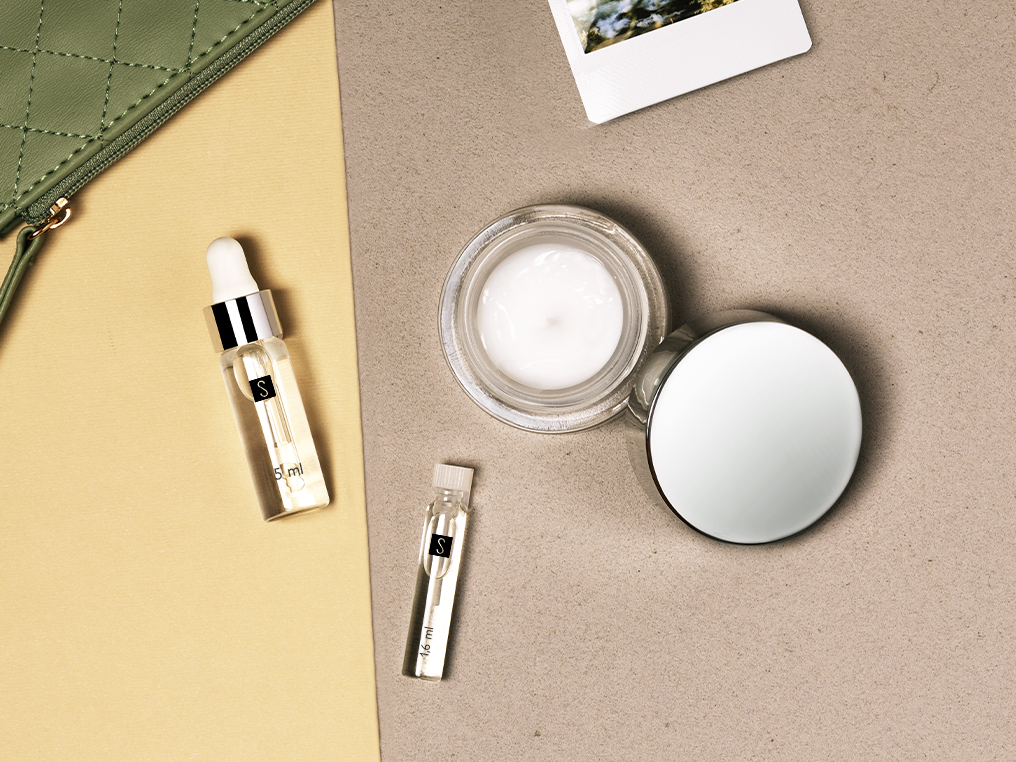 Travel sets with Stocksmetic packs
With Stocksmetic Packaging you can make convenient and practical travel kits and mini versions of skin care, body care, hair care and make-up products. Let's take a look together at what might be essential items to include in your travel set:
- perfume: thanks to its small size, the 1.6 ml Murano bottle is ideal for carrying fragrances with you while travelling away from home.
- face serum: with the 5 ml Mirò vial combined with its silver dropper, you can formulate a revolutionary face serum that visibly increases the skin barrier for brighter skin while resisting stress factors during travel (transfers, flights at improbable times and lack of sleep)
- face cream: the 15 ml clear glass Luxe jar could contain a light, refreshing cream that deeply moisturises and stimulates the skin's natural regeneration process.
- eye contour: the 10 ml Tubo bottle is perfect for an eye contour with vitamin C that smoothes out dark circles and improves the application and hold of concealer.
- facial cleanser: create a purifying and nourishing formulation with the effectiveness of superfood and try our 30 ml clear glass Sky bottle with its silver Sky cream pump for optimum storage.
Are you ready to create your new skincare and make-up travel sets? Visit our Stocksmetic eCommerce and discover our entire selection of cosmetic packaging dedicated to the travel world: all it takes is a few clicks to create an exclusive and practical mini collection!