Beauty trends are taking a very specific direction: personalisation. The analysis agency Mintel has been talking about it for months: this is the real keyword in the beauty world. According to the British analysts, consumers are tired of products "for all skin types" and are increasingly looking for tailor-made solutions for personal care, from beauty routines to hair products.
It is true that specific cosmetic products have existed for years, but our expectations in this sector are changing. This is leading to a change of course for brands seeking to meet the new needs of consumers through refined and careful personalisation.
Why settle for beauty treatments for normal, dry, oily, combination or sensitive skin when 2022 embodies a new era in skincare: relying on personalised and therefore safer and more effective products not only interprets the precepts of skinimalism that we have already talked about; but also reduces waste. Indeed, one of the beauty trends that began last year and which 2022 will undoubtedly bring forward is that of sustainability, to which it is impossible to ignore the growing sensitivity on the part of consumers in this sector. Buying made-to-measure becomes a way of making a more personal and conscious purchase. Because the skin is an extremely reactive organ, personalising your routine is essential. Ideally, you should organise your beauty routine on a 28-day cycle. In this way, you can act in a targeted manner on each individual skin problem. In this case, boosters prove to be the best allies: real beauty concentrates that allow you to tackle one problem at a time.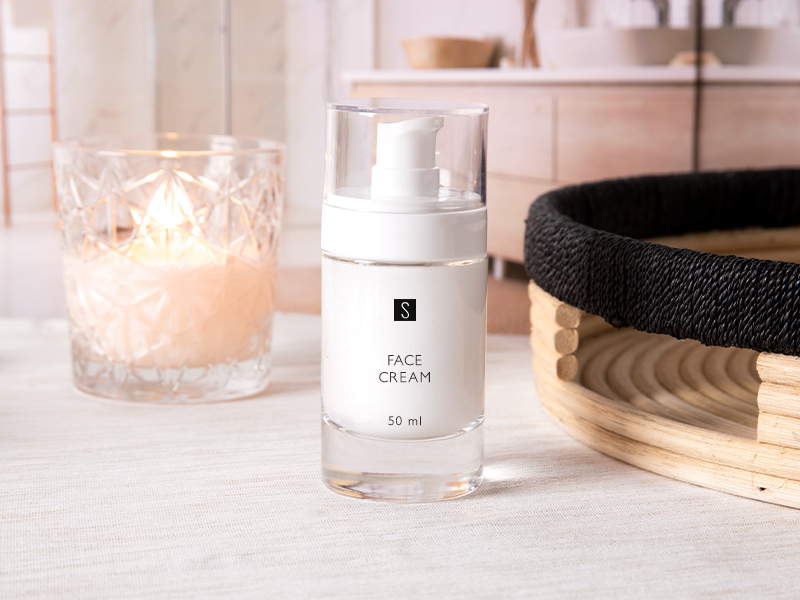 Create ad-hoc cosmetic lines with Stocksmetic
The screen printing service allows you to create exclusive personalised cosmetic lines with easily recognisable packaging according to your customers' needs, even for small quantities. Thanks to Stocksmetic, in just a few clicks you can create a high-impact silkscreen print in the finish that best distinguishes your brand: transparent matt, satin or varnished, choose your colours from the 17 glossy shades available, of which 3 are metallic.
On our e-commerce, you will find the section dedicated to Full Packaging, where you can select your favourite secondary packaging from a wide range: painted, with a glossy, matt or soft-touch finish, with four-colour and hot printing to enhance the metallic details, and finally with an internal reinforcement to better preserve and protect your glass packaging.
One of our favourites collections is Heavy, which features jars and bottles in a variety of sizes that can be combined with accessories of different styles and designs. For face creams, the 50 ml Heavy bottle with its white Snow pump is a real eye-catcher. Then complement the face creams with boosters aimed at combating various skin problems: the 15 ml Heavy bottle with its white dropper is the perfect pack for these beauty pills.
Visit the Stocksmetic e-shop to choose your favourite packaging, create your personalised logo for screen printing and finally choose your boxes. The result? Personalised and unique cosmetic lines for each skin type!