A face serum is a very powerful skincare product that penetrates the skin deeply and quickly thanks to its fluid and light molecular composition. Let's discover together its benefits and the different types.
The face serum is one of the most important skincare products, but at the same time, one of the least understood until recently. Fortunately, it has recently been gaining popularity thanks to a growing awareness of its benefits. Indeed, this cosmetic product contains a high concentration of active ingredients and nutrients for the skin: a true beauty booster. Used in synergy with other skincare products it can really turn your beauty routine around, enhancing its effects according to your specific needs.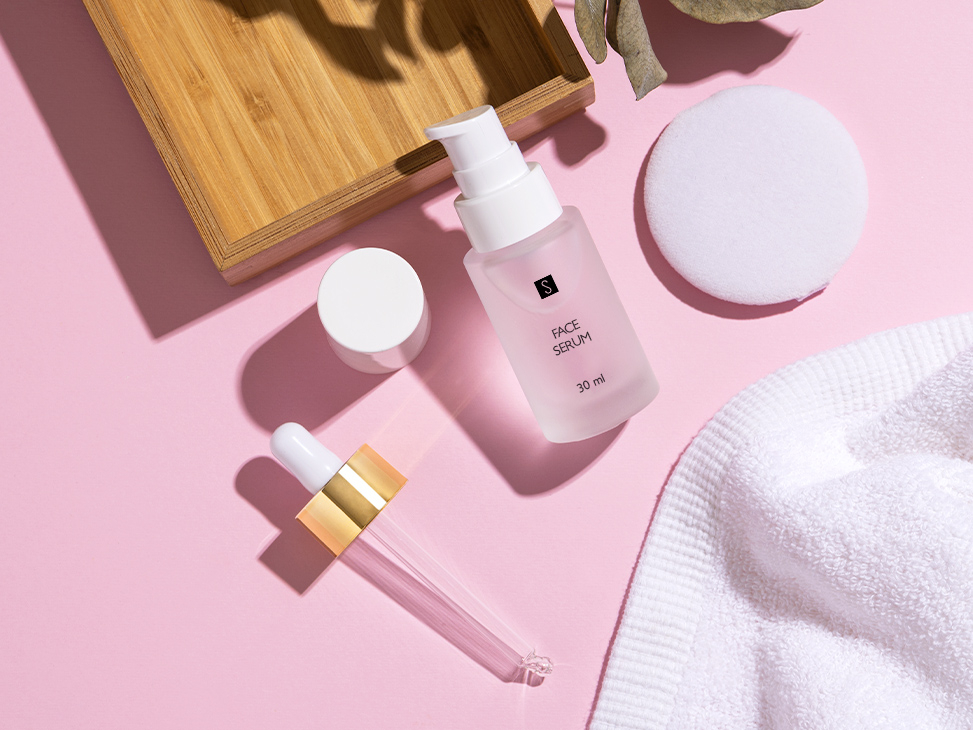 Create your own line of face serums with Stocksmetic Packaging
Face serums are not all the same and each one has special characteristics depending on skin type and different needs. Let us look at some of them together:
- Hyaluronic acid facial serum contains peptides and anti-ageing molecules that gradually reduce wrinkles and the first signs of expression. Having a lifting and firming effect, when used regularly, this serum gives a younger, more vital appearance. For this serum we recommend our 30 ml Sky bottle combined with its Sky dropper.
- The Vitamin C facial serum stimulates the natural production of collagen, a protein that "holds up" the skin structure, combating capillary breakage and treating rosacea. The 30 ml Pure bottle in etched glass combined with the white Maky pump with its white cover is the ideal pack for the vitamin C face serum.
- The illuminating face serum is enriched with coenzyme Q10 and pro-retinol to brighten dull complexions and stimulate cell turnover. The 30 ml Heavy bottle in white glass and the Ice cream pump are perfect for applying this product.
Enter the world of Stocksmetic Packaging and discover all the best packaging for your facial serum line. In just a few clicks you can create a complete and inimitable line to customise with your logo and graphics thanks to our screen printing service.