The area around the eyes has a tendency to show not only the signs of time earlier but also those of fatigue and stress. This is because it is particularly thinner and more fragile than that of the face in general. Today, however, it is possible to have a smooth eye contour with targeted treatments incorporating the most powerful plumping molecules such as hyaluronic acid, which is unrivalled in this field.
Indeed, its benefits are well known when injected into the superficial dermis, or infused into a cosmetic treatment because it can instantly plump the skin and fill in wrinkles. This molecule is a substance naturally produced by the body, and at skin level it provides elasticity, softness, radiance and hydration to the skin of the face and body and protects it from damage caused by external factors and physical stress.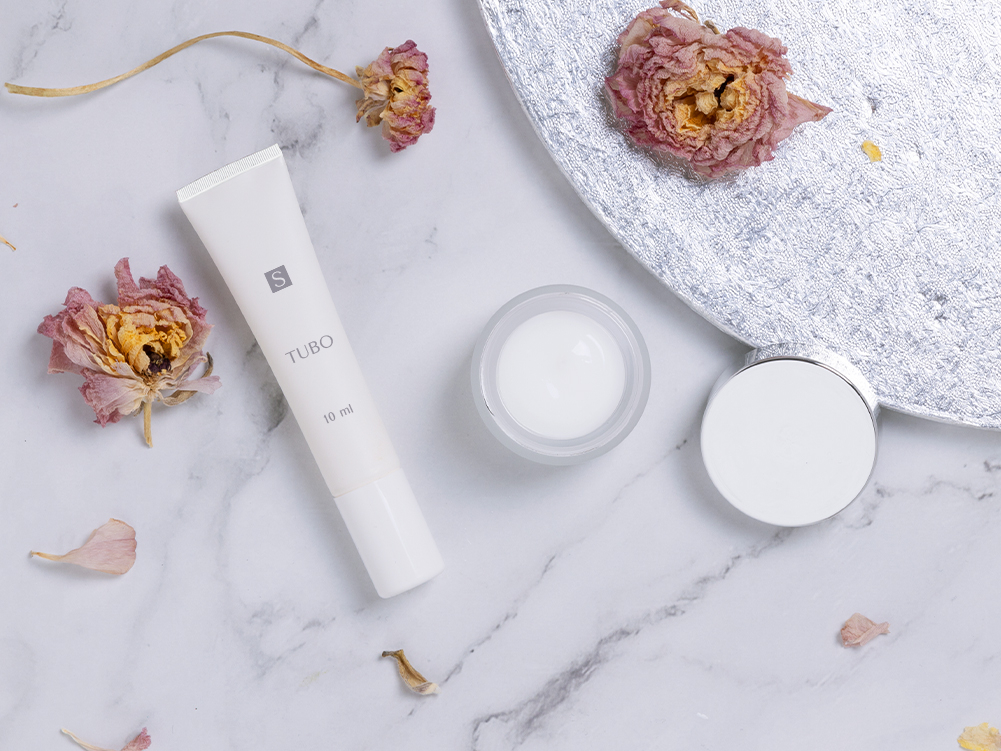 Choose the perfect packaging for your eye contour line
Eye contour cosmetic packaging is just as important as the components of its formula, so Stocksmetic offers you a selection of packaging that is practical, hygienic and effective in preserving product quality. Below we have compiled for you a list of our favourite packaging for your eye cream line.
The Tubo 10 ml bottle: the must-have of all eye contour lines! As a matter of fact, most eye contour products are packaged in small, thin tubes because this type of packaging is convenient and allows precise, controlled application of the product without waste. The Ego 15 ml jar in frosted glass combined with its shiny silver Ego lid: a classic and sophisticated pack! Some eye contour products can be packaged in small jars, similar to those used for creams. Use this kind of packaging if your eye contour formula is part of a broader protocol that also includes a face cream to achieve a more sophisticated look. Don't forget, then, to combine it with a spatula to prevent your product's contamination. With the Sky 10 ml bottle in frosted glass and the silver dropper, you can formulate an eye contour serum: an innovative alternative to a cream that can be used in the same way and following the same skincare steps. Finally on the Stocksmetic site you will find the Airless section: these bottles benefit from the airless technology, the best for preserving products' freshness and stability, preventing external agents from coming into contact with your formula and reducing oxidation and microbiological contamination. Furthermore, by pushing the product up when used, airless bottles reduce waste to a minimum.
Regardless of the type of packaging you choose, it is important to pay attention to the quality of the material used to avoid contamination of the product and ensure its stability. This is why you can rely on Stocksmetic for your cosmetic packaging, plus you can also make your cosmetic line unique with our 1 or 2 colour screen printing service and customisable boxes!