Stocksmetic is happy to present its collaboration with Red Saffron Milano®, a 100% made in Italy dermocosmetic line with high anti-ageing power, born from a passion for spices and their healing benefits.
As also indicated by the Italian magazine Donna Moderna, Red Saffron Milano®'s intuition to introduce red saffron as a skincare ingredient is now considered trendy thanks to its anti-wrinkle, moisturising and soothing virtues.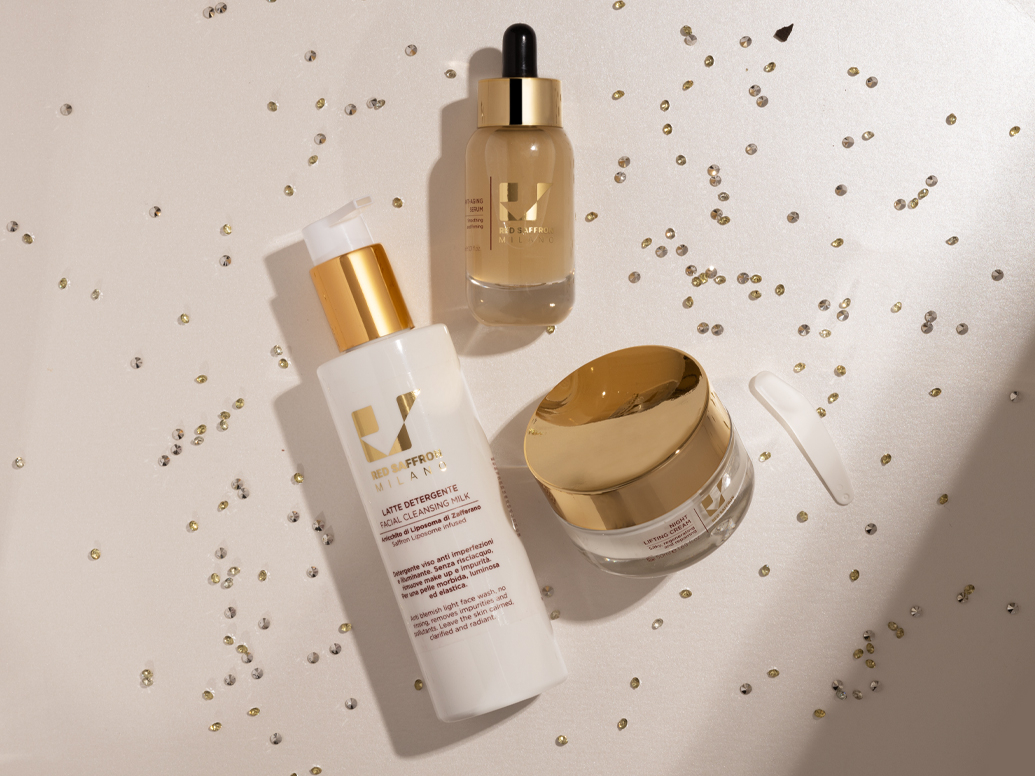 The "Nature Power" of Red Saffron Milano®
Created to preserve youth thanks to the most effective active ingredients available from the combination of nature and science, Red Saffron Milano's cosmetic line counteracts free radicals and promotes cell turnover.
The daily beauty routine for the face with the Face Cleansing Milk in the 200 ml New Pure bottle combined with the shiny gold Mountain pump. This lotion not only removes make-up but also cleanses in depth, leaving the skin soft, radiant and supple. We then continue with the Anti-Ageing Serum enclosed in our 30 ml Ego bottle and its practical Sky dropper in polished gold. This serum is concentrated with anti-ageing active ingredients. The innovative formula guarantees a powerful toning action. Finally, it's time for the cream: in our 15 ml Ego jar you will find the Red Saffron Milano® Eye Contour Cream, ideal for reducing puffiness and dark circles; while the Lifting Day Cream can be found in the 50 ml Ego jar. Ideal also as a base for make-up, this face cream is moisturising and delicately perfumed. Both jars have been combined with the Girotondo lid in shiny gold, giving added value to an already very sophisticated pack.
The secret of Red Saffron Milano® is to have combined ultra-firming active ingredients with the silky comfort of Saffron and the filler effect of White Truffle of Alba, all presented in a refined packaging, with elegant accessories and signed Stocksmetic, worthy of its main ingredient also known as 'red gold'.
Find out more about:
Website: www.redsaffronmilano.com
Instagram: @redsaffronmilano