Cosmetics and beauty-care for our pet friends
Dogs and cats are wonderful companions of life, 43% of Italians have at least one pet: these are the numbers that emerge from the Eurispes Italy Report 2017, which confirms once again that our homes host mainly dogs (62%) and cats (40.8%). Several studies have shown that living with a pet improves health: spending time in their company keeps us busy and at the same time has a relaxing effect on the nervous system. In the Assalco–Zoomark Report 2015, it emerged that pets are considered an important presence in the family, able to encourage the well-being of the owner and family members and to activate a series of situations, processes and positive feelings so that we can say that pets bring "value to everyday life".
To love our paw friends means above all to take care of them: one of the most important aspects is to take care of the hygiene of dogs and cats almost daily and to get them used to daily cleaning and brushing treatments.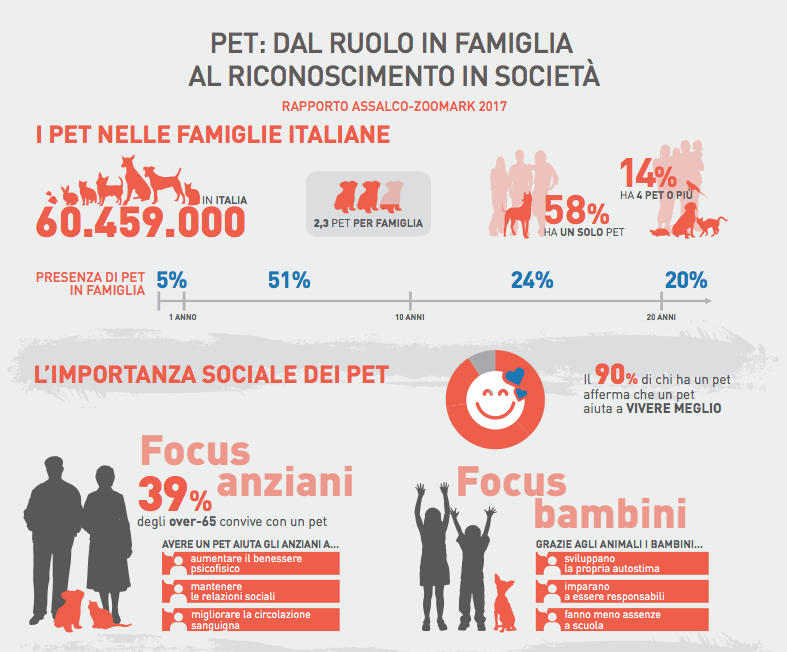 Pet Care: a growing market
Beautycare of pets is growing fast in Italy: animal hygiene products such as shampoos, deodorants, detergent foams, toothpaste, polishing lotions and everything that has to do with care and beauty grow by +27.4% in value compared to 2015. (Assalco-Zoomark Report data, the annual compendium on the world of pet). The demand is growing exponentially and owners are increasingly aware and careful about the choice of products for the care and hygiene of their animals. It is essential to use specific shampoos for dogs or cats, possibly using the formulation for frequent washing.
Pesticide shampoo, antiseborrheic, and disinfectant shampoos are commercially available and should only be used if recommended by the veterinarian in case of a disease that requires a specific treatment. Hygiene and care of dog and cat fur are essential so that a specific shampoo specially formulated for the fur type of our pet should always be present among the accessories of those who own a paw friend. We must not forget that nutritional supplements and nourishing oils are also very important, helping to keep our animals' skin and fur healthy and strong.
Dog and cat cleaning products: create your own custom line with Stocksmetic Packaging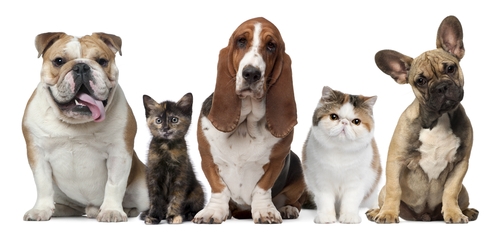 Do you like to create a cosmetic line for cat and dog cleaning and would you like to make it unique thanks to its packaging? Stocksmetic bottles, in plastic or glass, are the ideal solution to create a personalized collection of design without sacrificing the practicality of the pack. The wide range of accessories that can be combined in fact, will make it easier and more practical to clean the animal, adapting to the needs of both private and professional groomers.
The choice of the most suitable bottle is fundamental to give value to your pet product line: a plastic, aluminum, glass bottle or jar can communicate different aspects of the product. For example, the choice of a plastic bottle in the Skin Care Line communicates practicality, simplicity and functional comfort, ideal characteristics for both private individuals who carry out their own cleaning and for grooming professionals; instead, the choice of glass bottles, such as those of the Pure Collection elegant and sleek with silver lacquered accessories, makes the pack more elegant and refined.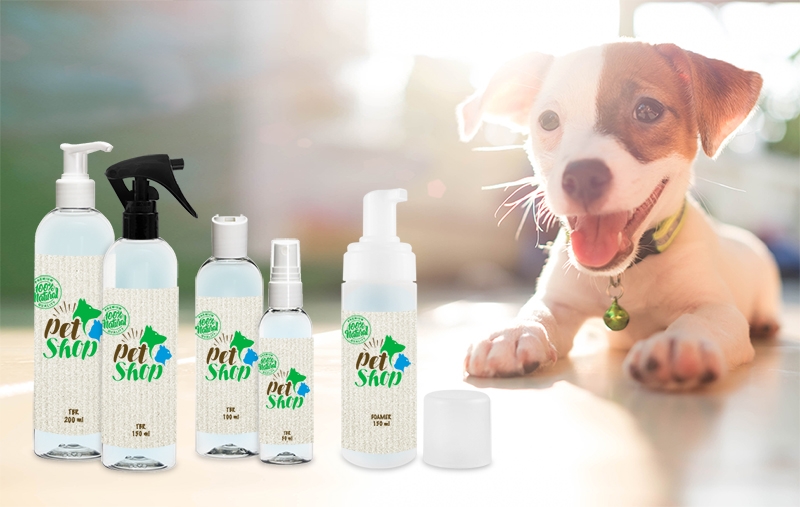 Creating a cosmetic line for the cleaning of pets is really simple with Stocksmetic, thanks also to the possibility of refining the packaging and making it unique by combining individual boxes and labels with logos and graphics. Recently introduced, in fact, the service Boxes e Labels, allows you to complete the pack by choosing from 13 different finishes of boxes: neutral or varnished, plasticized, opaque or matt or in the glossy or soft touch variant that can be printed in four-colour or hot printed gold or silver. As well as the cases, the labels, available in 4 different finishes (adhesives in white paper with a white background, in wire rod paper, in white polypropylene or in transparent PVC) can be completely customized with your logo.
The possibility of ordering our products from a box, also allows you to vary your product line and thus provide to the final consumer a complete offer that adapts to all different needs of each buyer.
Customizing and making products unique for animal cosmetics lines has never been easier!