Monodose cosmetics make it possible to replace the bulky travel beauty cases: ever more widely used, the mini size beauty products contained in travel kits make life easier for travelers, and are also very useful in everyday life. In fact, cosmetics in smaller and more practical format, thanks to the packaging, allow you to always have at your fingertips the usual treatments of your beauty routine, from perfume to skin care creams.
"Mini packs are a new frontier and one of the hottest themes for 2017. It is a product that ranges from niche perfumeries to mass markets. They can now also be found in pharmacies and perfumeries ", this is the comment by Gian Andrea Positano - director of Cosmetica Italia's research center - who outlines the new buying habits of consumers, increasingly oriented towards single-dose or travel size cosmetic products.
Travel kits are created to respond to the need to always bring with us our beauty essentials products respecting, among other things, the strict policies dictated by airlines on the liquids on board: by law, inside hand luggage and in the cabin in fact, the quantity of product loaded must not exceed 100ml. In this case, there are essentially two options for travelers: filling in transparent travel containers, an operation that very often ends up wasting a large amount of product, or buying the mini-size products that populate the duty-free.

Fonte: Pinterest
Cosmetics companies are responding to these new needs with pocket size products sold individually or in practical complete kits.
Today more and more products in the beauty sector are now available, in addition to the traditional line, also in the pocket format: in any perfumery or pharmacy we can easily find makeup products but also cosmetics and hygiene products ( cleaners, skincare products, face creams, and sun protection) in comfortable bottles and jars in the most practical, compact and lightweight reduced jars. Cosmetic companies have in fact created real collections and mini beauty cases with complete lines of products for face and body care in pocket sizes: the products of our favorite brands in micro bottles or jars starting from 15, 30 ml to 50 ml.
Mini-size cosmetics: not only for traveling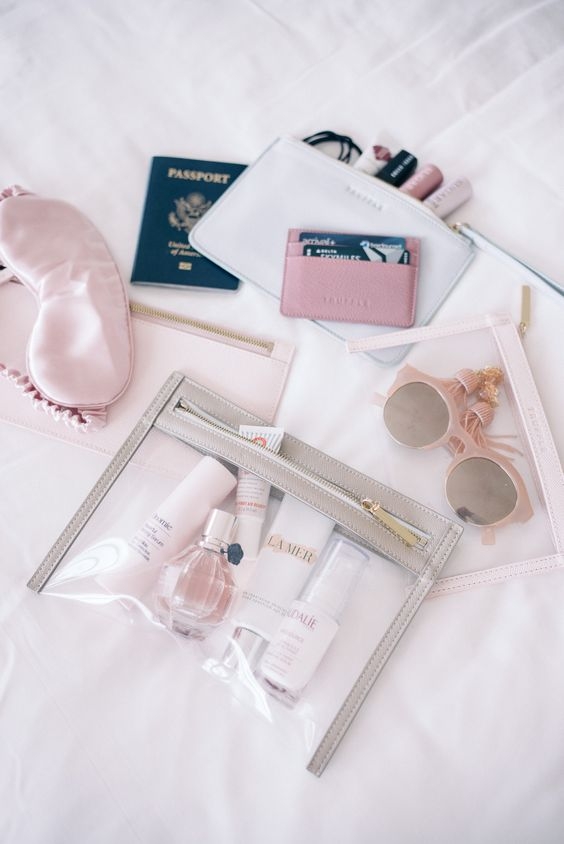 Fonte Pics: Pinterest
The mini-size products are functional and comfortable, contain everything you need for cosmetics, make-up and perfumery in a small format, and are often an elegant and refined miniature of classic packaging. Precisely for this reason, they become indispensable products not only on the road: one of the advantages of pocket format is in fact that you can try more products and buy the classic format in a more conscious way later on after a test phase. This allows the end consumer a more frequent replacement of products to follow the new season trends or simply with their own desire for change and novelty. Mini size formats are often confused with samples, useful to test a product: unlike these, travel sizes contain a greater quantity of product, they are used alongside the whole product to be used in situations where greater comfort is required.
Make Up? Always in the bag!
The mini size makeup formats are increasingly popular with women, who have the opportunity to buy more products by creating new shades mixing different shades, and keep up with the times by easily changing every new season.
For a quick retouch of the look during a dinner, a quick change when leaving the office, the new must-have are blush and powder handbags, not forgetting mascara and palettes of eyeshadows, correctors, and foundations. The face cleaner is also in a miniature version: cleansers and micellae water allow you to easily take care of your skin in any situation.
Alongside the mono dose, there are also multi-functional products, a single trousse for multiple products, lipstick, gloss and compact foundation: everything you need for make-up quickly but reducing weight and increasing space in bags.
Your travel size product line with Stocksmetic Packaging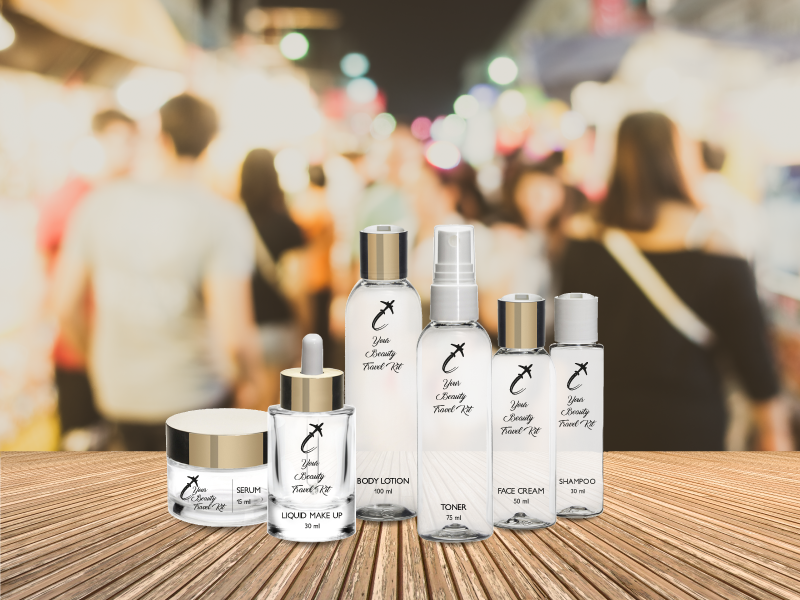 With Stocksmetic Packaging you can create a line of mini-size products for body and skincare: in fact, all the lines in the e-shop have smaller sizes packs. The Fragrance collection includes glass bottles, roll-on bottles and sampling bottles with an elegant and refined design to make a line of fragrances unique. There are a lot of packs available in these mini versions such as the 5ml Vip Bottle, the 15ml Trend Vial or the Cylinder Bottle that can contain 30ml of product.
Also in the Skin Care collection there are bottles and vases with pocket format ideal to complete your cosmetic line with the travel size formats: bottles and vases in glass, plastic and aluminium available from 6ml as the practical Airless bottle or 15ml as the elegant Heavy Vase.
To create a travel makeup line, the Make-Up collection is the perfect choice: bottles, jars and vials specific for foundations, eyeshadows, mascara, eyeliner and lipstick with a practical and elegant design to customize beauty products with an exclusive packaging. Among the many cosmetic lines proposed by Stocksmetic, the TBR collection is one of the most suitable to create a personalized travel kit: plastic bottles also available to hold 50 ml, with a wide range of accessories and finishes in shiny gold and white that combine elegance and practicality to travel in comfort.
With Stocksmetic, by logging in to the online shop, you can choose the most suitable bottle or vase and match these accessories. Furthermore, with a simple click you can also buy the box and the label in your preferred finish with your own logos or graphics.to personalize you cosmetic line.