Stocksmetic introduces a new section, which is entirely dedicated to the creation and customization of your packaging with boxes and labels for each product line of our e-commerce.
The strength of a customized packaging
Choosing the right packaging is fundamental in order to communicate the brand identity and to diversify your own products from the others on the market.Stocksmetic has always been committed to meet the needs of its customers. That's why we thought of a wide range of customized labels and boxes for packaging to complete your line of products with a unique, eye-catching design. Customized labels are the ideal solution to embellish the packaging with your own logo. You can choose among 4 different finishes: adhesive labels with a transparent PVC, white PP, paper or laid paper bottom.For an all around complete personalization, Stocksmetic also offers you a line of boxes in 13 possible finishes: neutral, varnished and plasticized, matt or soft-touch. All packages can be printed in four-color process and gold or silver hot print.You will not have to worry about shapes and sizes: all labels and packagings perfectly fit into the products of our perfume packaging, beauty care packaging, pharmaceutical packaging, home fragrance packaging and Make Up packaging lines. Furthermore, boxes and labels are available for sale blocks of 100, 200, 300, 400, 500, 1000, 2000, 5000 pcs.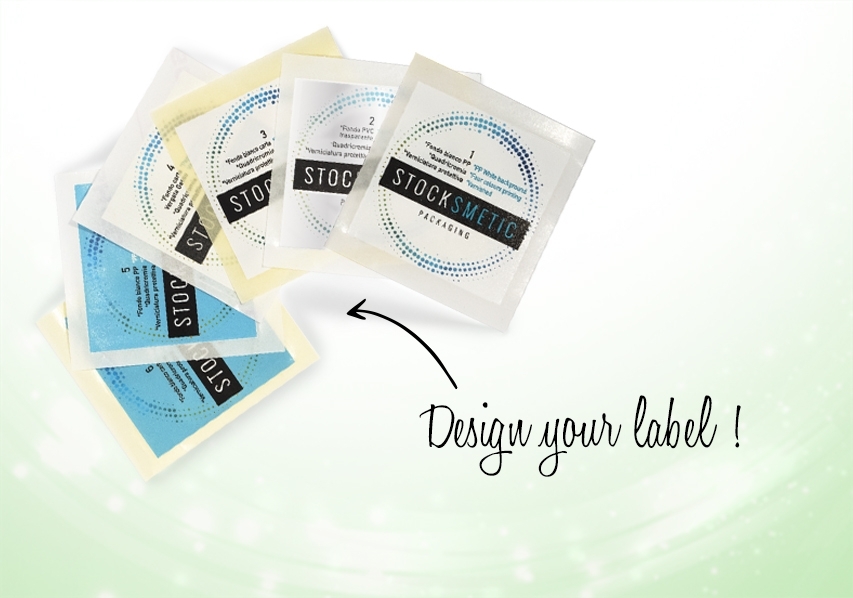 How to create your unique pack with customized labels and boxes
Choosing the right packaging requires careful research and attention to detail. Stocksmetic leads you step by step through the process of choosing your packaging line with personalized labels and boxes and their essential design. Creating and personalizing your packaging is simple! Though our website www.stocksmetic.com you can choose the bottles or jars that you prefer and combine them with the right accessories. You can choose the box and label in your favorite finish, and then apply your logo or graphic. You can buy boxes and labels both inside the page of the selected containers or directly in the "Box and Labels" section. Once you have added the required item to the cart, you can conclude the purchase and proceed with the payment. In the same section, available for download, you will also find the PDF containing the instructions and the path to insert your graphic. Attach your logo and upload the print file to your reserved area. As soon as our graphic department approves it, you will receive a confirmation email and within 5-6 working days only, you will receive your finished product. But it's not over yet. If you haven't already got the graphic, a team of designer will help you to create the perfect customized labels for you.
Sample Kit: get the whole range of boxes and labels in one box!

In order to choose the most suitable finish for your collection of products, you can request a sample kit that includes boxes and labels in all of the available finishes. You can see and touch the quality of paper and print with your own hand and pick the proper packaging for your needs. If you choose to purchase the sample kit at the price of 28€, once you decide to proceed with the order, you'll get a complete refund. Don't miss the opportunity to get a -10 % discount on all the orders of boxes and labels for all the November 2017 month! Creating your line of products is now easier and faster: from the pack to the finishes, all the way up to the creation of a unique packaging including boxes and adhesive labels with your logo, all in a few clicks. Go to our labels and boxes for packaging section, and discover this new amazing Stocksmetic's feature.