Stocksmetic Packaging is proud to have teamed up with Avenir Line® for the creation of its cosmetic line, which stems from the need to enhance the active ingredients that nature provides, as the brand itself states. 100% Made in Italy, its formulations are studied in its laboratories, allowing the properties of minerals to act in synergy with native Italian organic actives.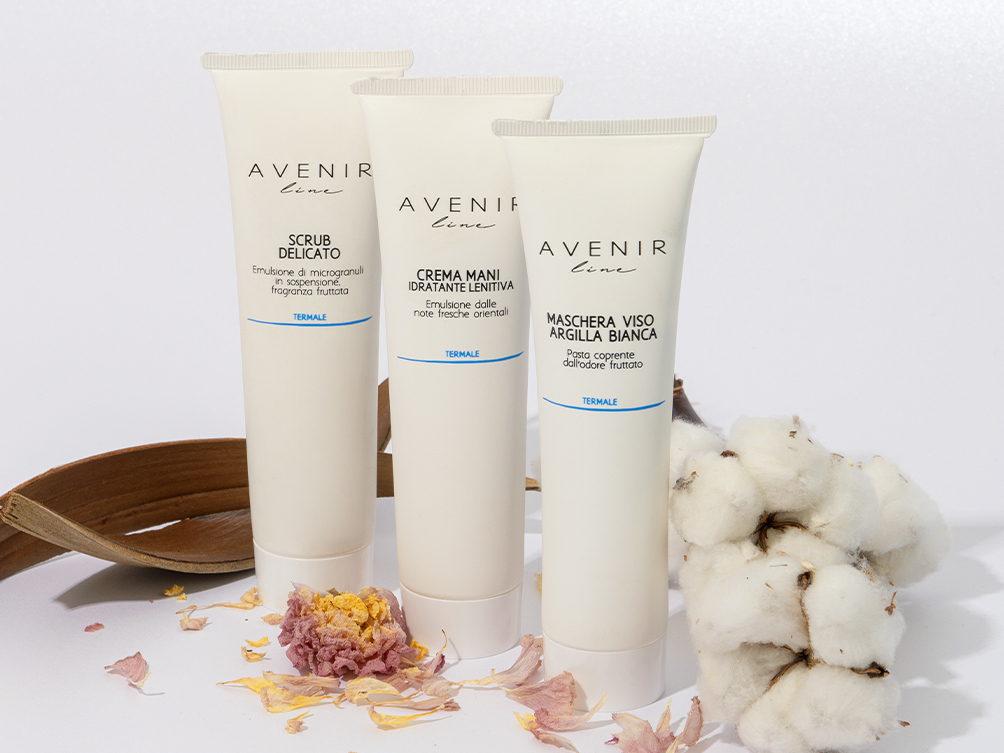 "The future of cosmetics is written in nature"
This is Avenir Line®'s premise to create a cosmetic line suitable for all skin types, tailor-made wellness rituals for each skin type. Stocksmetic provided the packaging so that it would be as natural as possible, in line with its "clean beauty" mission.
For its anti-ageing face cream, Avenir Line® chose the 50 ml Heavy jar combined with the shiny black Girotondo lid. A classic and elegant packaging that reveals a glossy white emulsion. This rich cream, with its fresh fragrance with oriental notes, is ideal for keeping the skin young thanks to the action of hyaluronic acid and moisturised with shea butter. For the eye contour cream, Stocksmetic offered the 30 ml Pure clear glass bottle and the cream pump. This emulsion with fresh, light notes is an evening treatment to be massaged in until it is absorbed to combat blemishes in the eye contour area. Combined with the dropper, then, the same Pure bottle also contains another best seller: the anti-ageing face serum. This fluid solution with fresh, velvety notes has a tightening effect and is particularly suitable for the eye and lip area. Completing the collection is the 100 ml tube bottle with the White Clay face mask, a purifying treatment with a light fruity fragrance for impure skin.
Avenir Line®'s mission is to offer a safe product that is simple to use, but combined with certain efficacy, in the formulation as well as in the packaging, which is why they have placed their trust in Stocksmetic.