Mens Cosmetics products: a growing market
Men's cosmetic products for men are in a strong and continuous expansion and companies in the sector are reacting with appropriate formulations adapted to this new trend. According to a research by Cosmetica Italiana, in fact, the daily habits linked to personal care are focusing more and more on the wellbeing of skin and hair, rather than on hygiene alone, as happened in the past.
According to this survey, it emerges that men have different needs than women: for this reason, new products designed specifically for men are constantly being developed. This means that the men's beauty products sector is a market with important growth expectations, which according to the latest data has recorded 2,989 million euros for hair treatments and 2,902 million euros for skincare products with a growth forecast of +5% and +9% respectively by 2019.
Once upon a time the products of wives and girlfriends were used: now the beauty houses of the companions are no longer necessary, in fact men go alone in perfumery stores.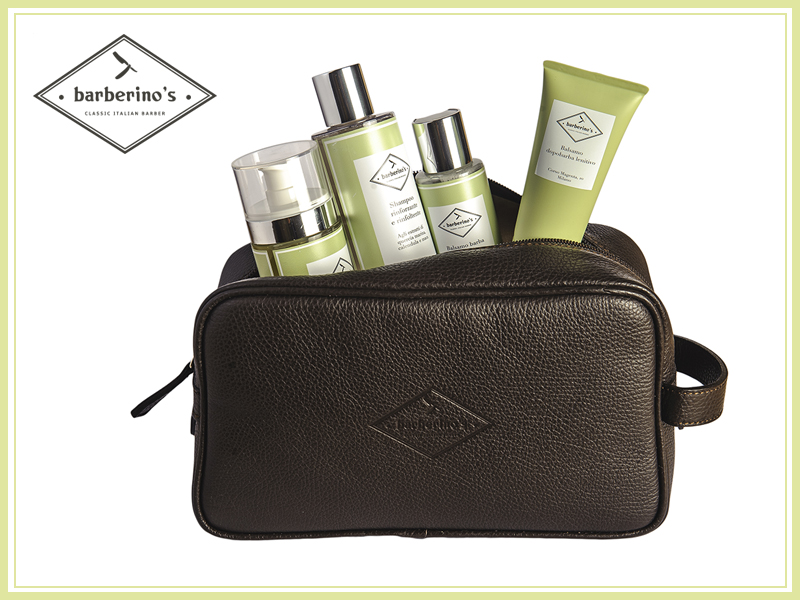 Skin care: beauty routine for men
We are facing a radical change: men have rediscovered their externality, forgetting the taboos of yesteryear. In a certain sense it is a return to the origins: already at the time of the Egyptians and ancient Romans men cared for their bodies like women. This marked change has sociological reasons: in fact, society has imposed a new model that corresponds to a man who is always perfect and well-kept. Before the new trends there is the important diffusion of SPAs and wellness areas: if until a few years ago it was almost unthinkable, now men no longer have any fear of entering an aesthetic centre.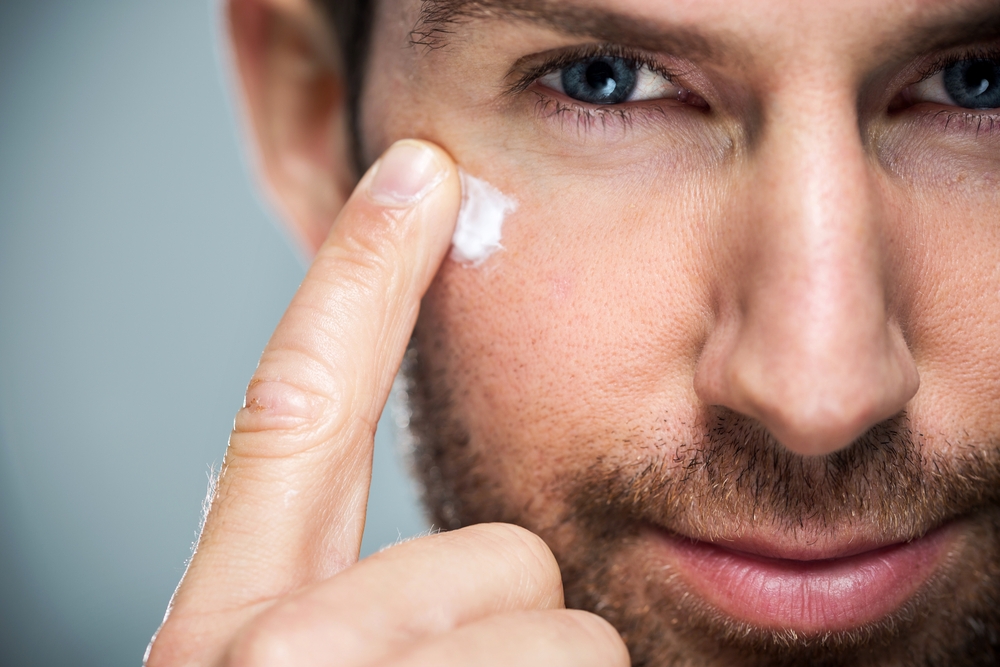 A trend, that of men's skincare, which is on the rise and which affects an ever younger public, as the numbers reported by Cosmetica Italia show: those who are more mature do not pay much attention to the skin, giving it as something for granted. The average user of the cosmetics "for man" is the young adult, and the market, therefore, responds with products and lines more and more numerous and dedicated: the skin of a man is in fact very different from the female skin, thicker and more fat, but equally easy to dehydrate, also due to aggressive daily gestures such as shaving. From scrubs to face masks, every season new cosmetics are born that until recently was almost unthinkable to enter the beauty routine of men.
Grooming: new cosmetic products for beard and hair care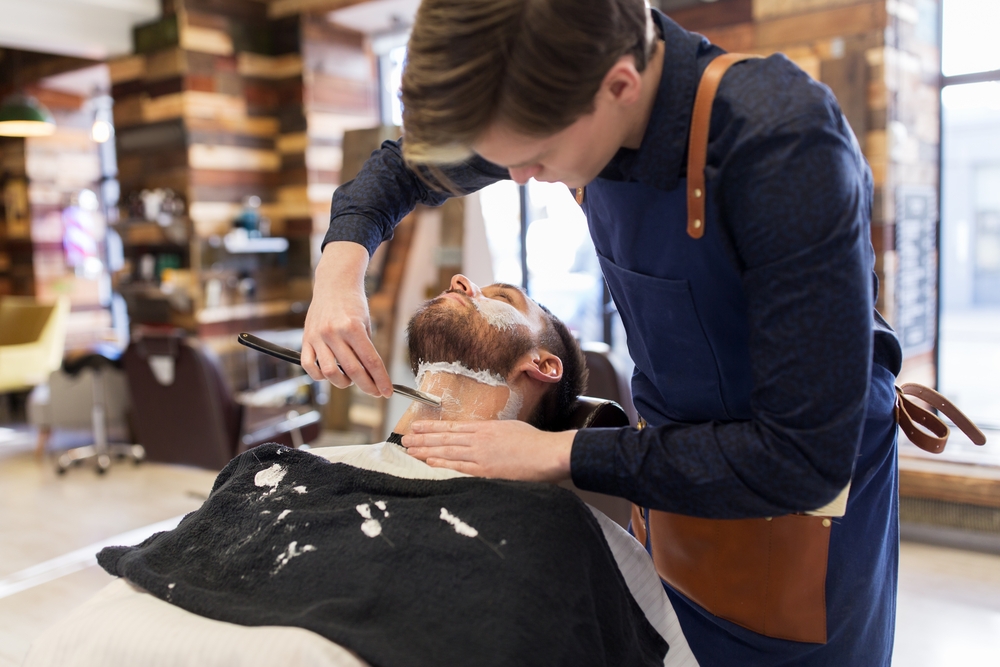 If skin care has become extremely important, we must not forget the strong trend linked to the beard world: grooming. This phenomenon, which in recent years has characterized the male universe, does not stop, but evolves into new and more sophisticated forms, starting with the care, which becomes a rewarding and refined experience thanks to new products such as definition gel, conditioners and butter softeners and specific detergents of the highest quality.
Products, treatments and accessories reserved for the most demanding and aware men, who in the increasingly attentive care of their appearance tend to privilege the face and identify in a perfect shaving or an impeccable beard the unequivocal sign of their style. This sector, born several seasons ago with hipster fashion, is turning into an increasingly widespread trend: just think of the many Barber Shops that can now be found throughout Italy. The result is a series of new specific cosmetic products: oil and conditioners, cleansing gels and waxes for shaping hair, beard and mustache.
Stocksmetic Packaging for men's products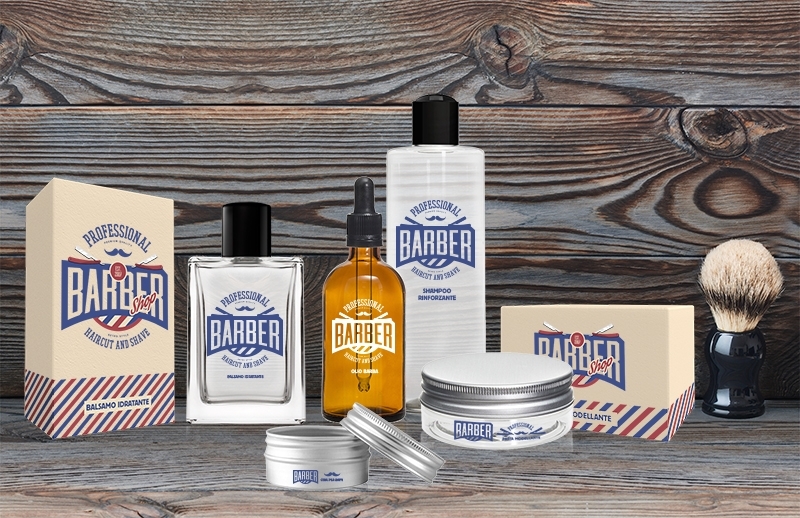 Stocksmetic makes packaging for perfumes and skin care lines perfect for men, in fact it should not be forgotten that the pack used has a great importance in men's cosmetics. Pump-operated dispenser systems are widely used for fast and practical use, uniform dispensing and safe transport in travel and in the gym. The packaging must make the feminine side of cosmetics forget, and thanks to the design and shape it recalls a typically masculine image.
For the packaging of a perfume our Edo, Kubos and Porto and Rifle glass bottles, combined with the appropriate accessories, can be perfect to contain male fragrances.
With our packs, it is possible to create complete cosmetic lines thanks to a wide choice of bottles and vases with a refined and essential design. Glass, plastic and aluminium bottles are available from sampling up to 400 ml, even in foamer versions, while airtight or aluminium closures lend themselves to various formulations.
Among the various collections, the Wood line is certainly more elegant and precious, while the Round Collection makes practicality its strong point, ideal for face and body creams, serums and masks. Last but not least, the Aluminium collection, thanks to its minimal but decisive lines, is undoubtedly a packaging that suits the beauty routine "for man".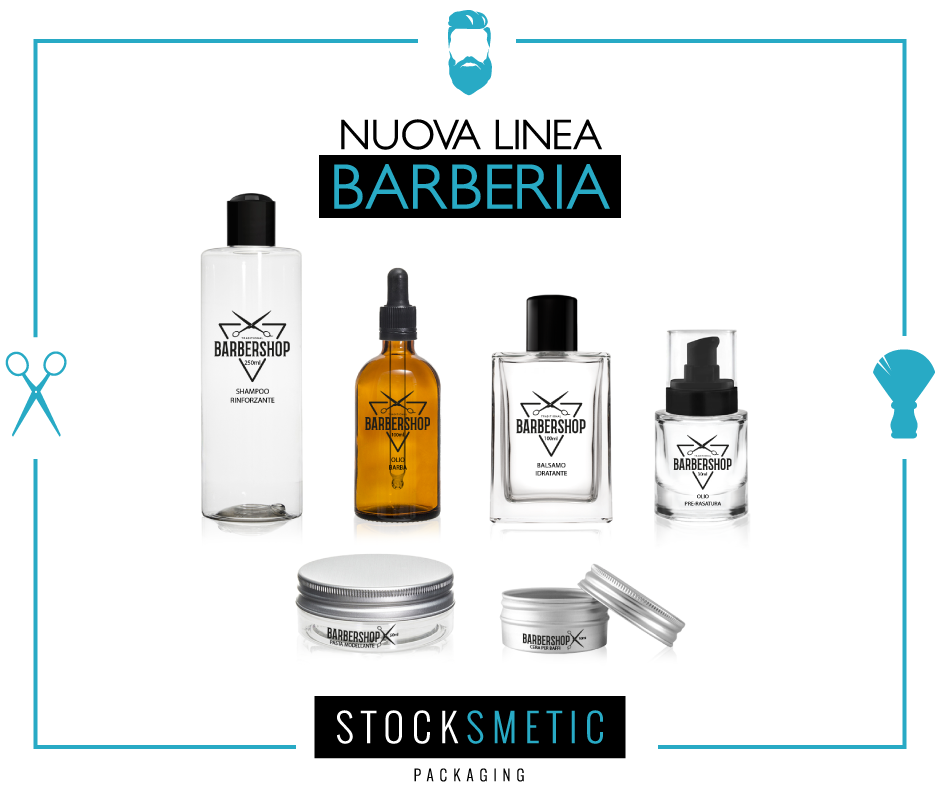 Stocksmetic Packaging has also created the Barber line, the collection that offers a series of bottles and vases for cosmetics specially designed for men's products and designed for cosmetic or barbershop companies that want to create their own line. The plastic and glass bottles are designed for shampoo, conditioner and pre-treated oil such as the SAMI glass bottle perfect for aftershave products, while the glass and aluminum jars are perfect for waxing and shaping pastes.
Thanks to our packaging, anyone who wants to enter the male cosmetic market can create their own line from scratch.
Starting from bottles, vases, accessories and the creation of boxes and labels with their own logos and graphics - at no extra cost of plant and startup - you can really customize your pack 360°.