The Stocksmetic packaging collection expands with the arrival of Miracle, the elegant glass jar ideal for containing luxury cosmetics, skincare products and makeup.
It is a refined and practical pack suitable for preserving different types of formulations including creams, gels, masks, primers, specific treatments, liquid and mousses foundation and powders.
The Miracle jar is already available in our e-shop in the convenient 50 ml format, in the polished and etched glass version and can be combined with different types of accessories: in addition to the plate, it can be completed with the Girotondo lid in polished gold and silver, in wengé, natural or bleached wood or in black or white plastic.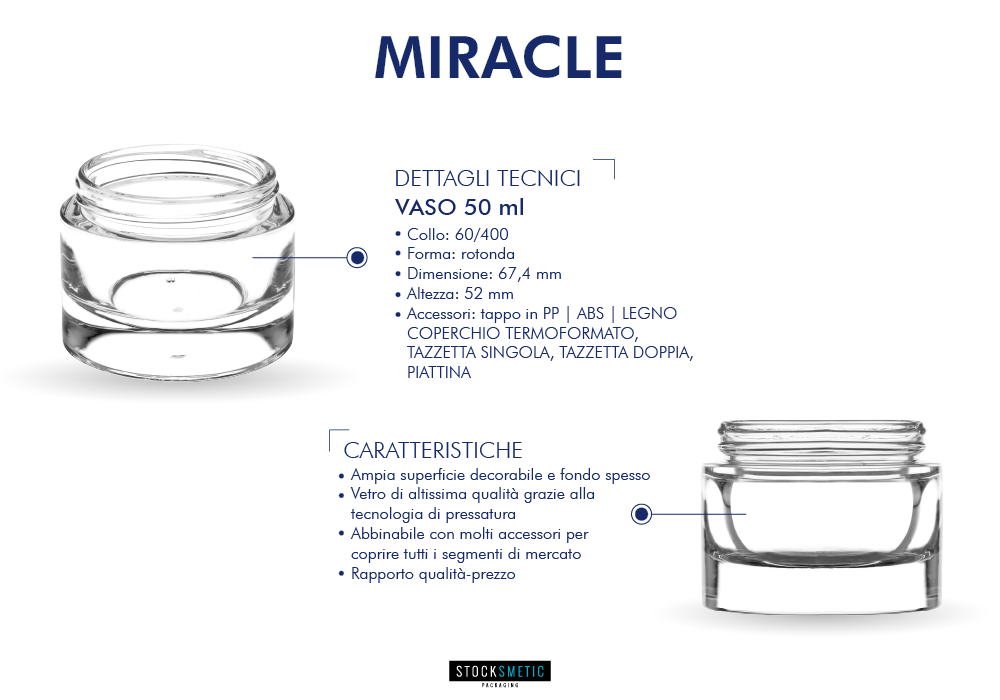 The strengths of this packaging are the large decorative surface that allows you to customize the container with labels in which to insert their logos and graphics. In addition, the glass quality makes it a unique and innovative pack that allows you to better contain the product inside and to enhance the richness of the formulations.
Packaging is an important element in the choice of a cosmetic product: for this reason, innovation, modern design, high quality materials and constant research make Stocksmetic a company that is always attentive to new market trends and consumer needs. The result is an advanced pack capable of attracting the attention of the potential buyer.