Avenir Line is an Italian company specialized in the production of innovative cosmetic formulations based on completely natural ingredients.
The future of cosmetics is written in nature: this is the key to the success of Avenir Line that, thanks to the continuous research of raw materials that the territory provides, is able to develop unique and cutting-edge formulations.
Rose water, orange blossom and also thermal water are just some of the elements that enrich its 100% organic formulations and without parabens, alcohol, paraffins and other mineral oils.
Within its laboratories, these biological active ingredients, carefully selected by expert researchers, act in synergy with the properties of the minerals: the result is a high quality and 100% Made in Italy cosmetic line, which uses certified active ingredients from organic farming and controlled raw materials.
Among the wide selection of products created by the Italian company, we find a skincare line that includes formulations for cleansing, hydration and with anti-aging action. The range also includes specific products for hands, feet and anti-cellulite.
Avenir Line turned to Stocksmetic for the packaging of its cosmetic products.
Specifically, for the formulations dedicated to facial cleansing such as cleansing milk, micellar water and softening tonic, the company opted for the 150 ml New Pure bottle combined with the black Disc Top cap: a practical and elegant solution perfect for daily use of the product.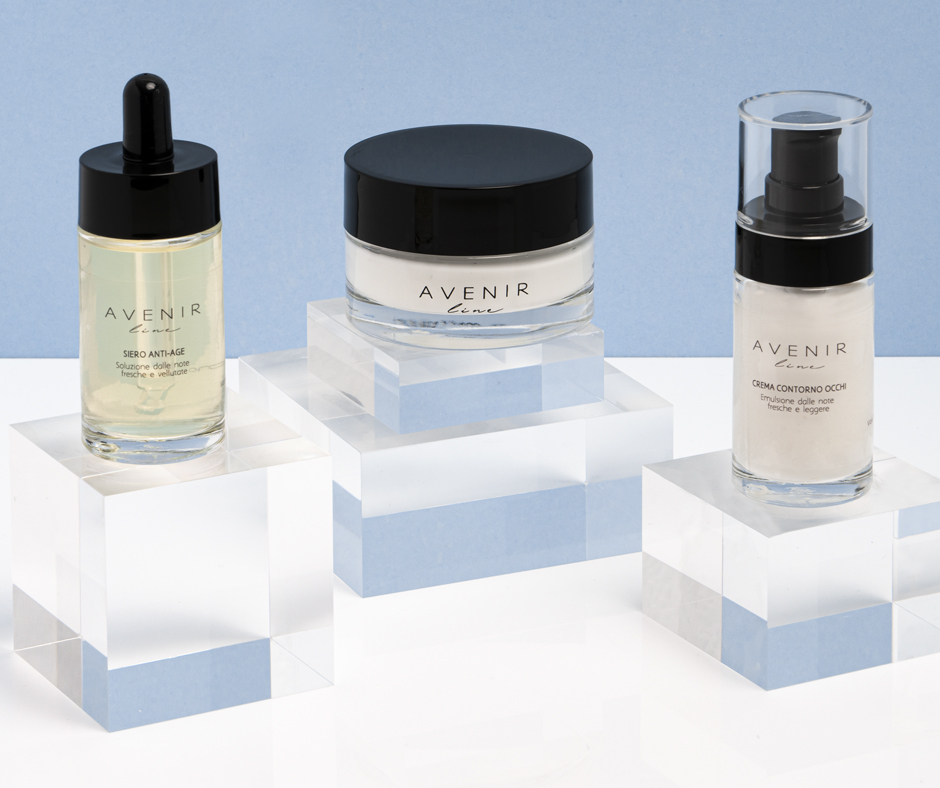 For moisturizing, anti-ageing and impure skin face creams, the chosen pack is the 50 ml Heavy glass jar, ideal for giving the product a touch of elegance, allowing the naturalness of the formulas to shine through.
Also in the face line, the 30 ml Pure bottle, completed with the Ice Lotion pump and dropper, was used respectively for the eye cream and anti-ageing serum, allowing localized application of the product.
Finally, Avenir Line chose the practical 100 ml tube bottle for formulations such as the clay mask, scrub and hand and foot emulsions. While the 200 ml version was the perfect choice for body products such as Drenafango, Cream Oil and Crio effect slimming anti-cellulite cream.
Thanks to the combination of natural but absolutely advanced cosmetic formulations and the use of high quality packaging, Avenir Line has created a unique and elegant skincare line suitable for all skin types.