When exposing your skin under the sun, during holidays by the sea or in the mountains, one of the fundamental aspects for the well-being of the skin is to have a specific beauty routine. In fact, it is not enough just to apply sun cream when you go to the beach, but it is important to prepare the skin even before and after exposure, in order to ensure the balance and natural shine of the complexion.
Wrinkles and spots could be the effects caused by aggressive external agents such as sun, wind and sea water: to prevent them, it is essential to use different kinds of specific formulations and treatments.
Before sun exposure, an important step is the face cleansing using non-oily tonics based on natural substances, with a moisturizing action to be combined with nourishing creams for delicate skin enriched with hyaluronic acid. For the rest of the body, it is a good rule to use emollient creams which make the skin soft and elastic.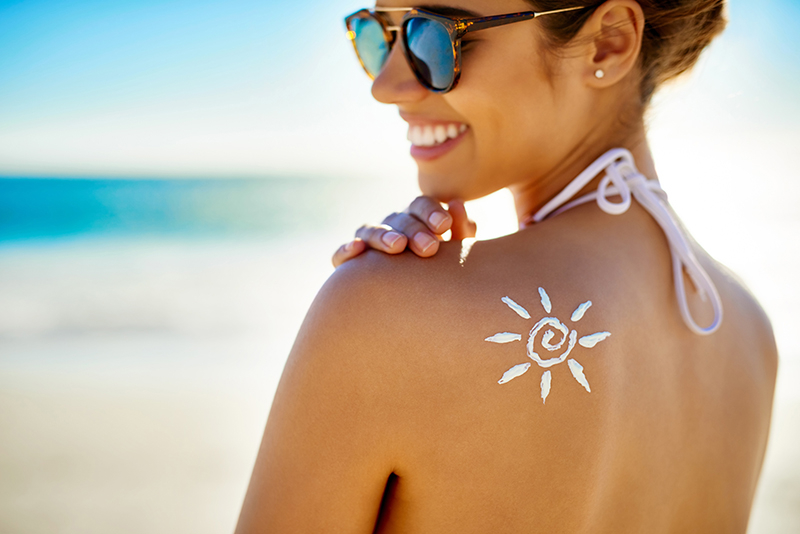 When you are at the beach or under the mountain sun, sun cream is the best ally. Formulations with SPF 30 and 50 ml which shield the skin from UVA and UVB rays are the most suitable, but don't forget to protect your hair as well. Hair is one of the most delicate parts and risks damage and drying out easily. To overcome this problem, it is recommended to vaporize a natural protective oil, with sun filters and a protective action.
Finally, after a day under the sun, to maintain the tan and nourish the skin, it is important to apply a rebalancing face mask and then an after-sun body oil or milk with soothing principles, which will reduce redness, irritation and dryness of the skin. While as a hair treatment, it is essential to choose a restructuring shampoo and mask.
In addition to these cosmetics, on the shelves of pharmacies, herbal shops and cosmetic stores, you can find different supplements based on beta-carotene with the aim of stimulating the melanin production, a substance which protects the skin from UV rays.
Your sunscreen packaging line with Stocksmetic
Stocksmetic has a wide range of practical packaging, perfect to contain your formulations even under the sun.
Among the recommended packs for formulations such as sun creams or after-sun milk, you can find 100 ml and 200 ml Tube bottles. Practical and resistant, they allow you to apply the product easily.
In the case of body tanning creams or hair protection solutions, the best packaging is the 200 ml Round bottle combined with the Ice Pump or the Minitrigger, useful to spray formulations in the best way.
For hair and body masks or for delicate scrubs, the 250 ml Green PE plastic Pure jar is perfect for products based on natural ingredients.
Discover all the packaging in our e-shop and start immediately to create a complete sun products line combining quality, design and practicality.