Customize your pack with your own graphics in 1 or 2 colors
Stocksmetic Packaging features a screen printing customization service on glass and plastic bottles and jars, allowing you to fully customize a selection of packaging. Screen printing is a printing technique that can be applied to different types of materials. In particular, it can be done on bottles and jars in different finishes, such as transparent, opaque, satin, and painted. Customizing packaging through this technique is very simple. By following a few steps, you can print on your bottles and jars texts, logos and vector patterns of your choice, making your beauty products line unique.

Stocksmetic Packaging offers you the customization service in 17 different glossy and 3 metallic colors: gold, silver and bronze, as well as the option of using the Pantone® coloring system. The service requires a minimum order of 200 pieces for one-color screen printing and 500 pieces for two-color screen printing. You can choose eligible screen printing packaging by checking the "screen printable products" section on the website.
Customizing with your own graphics only takes a few simple steps
After selecting the most suitable bottle or jar for your needs, within each product page, you will find the guide box "Customize the bottle or jar with your own graphic." Here you can choose the 1- or 2-color customization service, download the layout and instructions for uploading your graphic. It is key to carefully follow all the specifications provided in these documents for preparing the appropriate graphic files. You can also check out the price table, where you will find additional technical cost information, including the cost of setting up the machine and creating the screen printing frame for printing the graphic. In case you decide to proceed with customization on both the front and the back of your product or if you select 2-color screen printing service, the start-up cost will be double.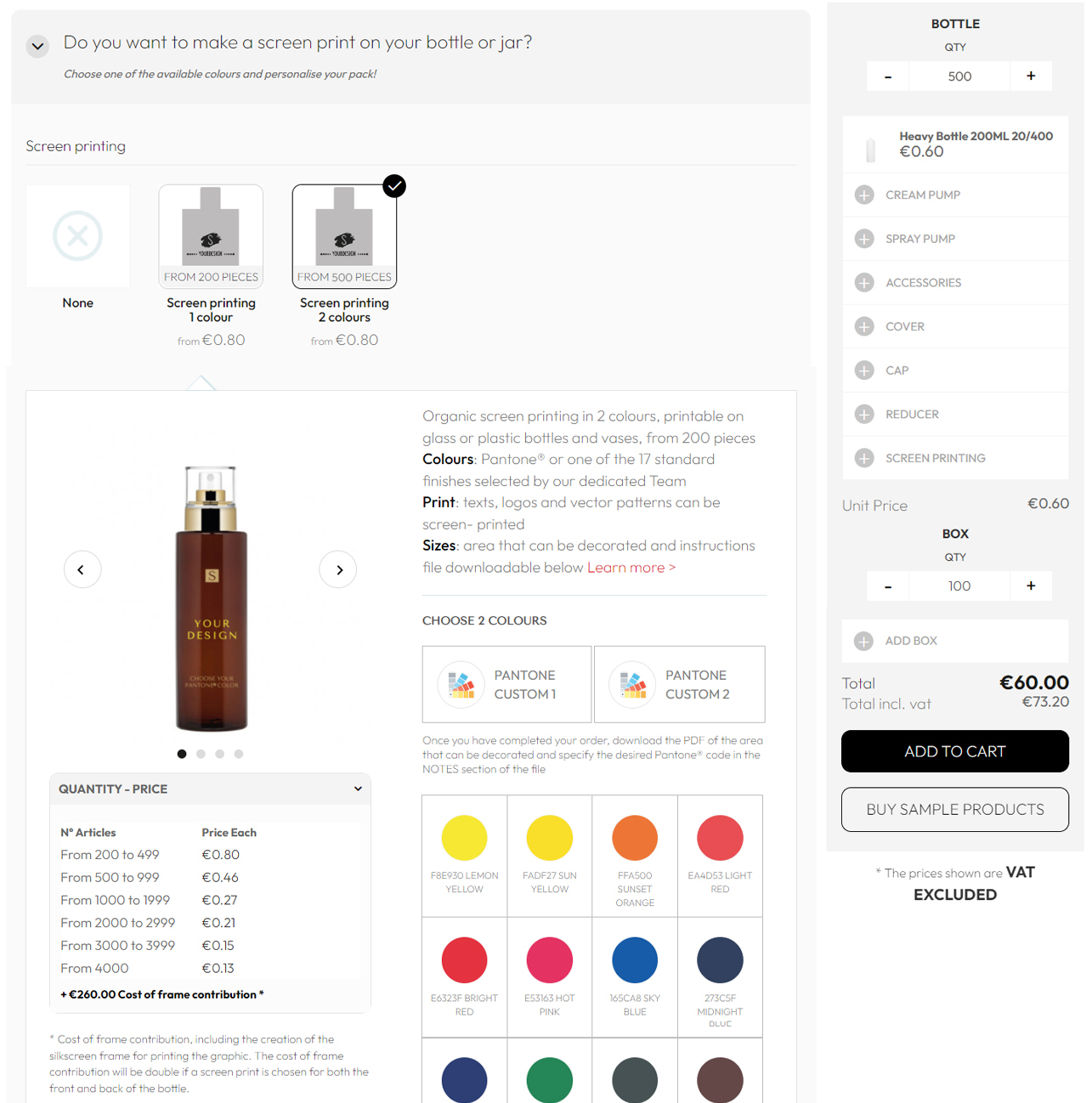 Once our systems have received payment for your order, we will activate the artwork upload area within your Personal Area. After uploading the artwork with your graphic, our dedicated team, following a review, will approve or reject it. If it is rejected, customer service will contact you to provide further details and guide you through the changes to be made to your graphic. If it is approved, the executive print file will be uploaded to your Personal Area, which must be accepted or rejected in order to proceed with the production of your order. Remember that until we receive approval of the print executive file, we cannot process your order. Production time for custom merchandise with your artwork is approximately 4 weeks from the date of final approval of the artwork.

Screen printing sample kit
To test firsthand the quality of the printing we offer, you can purchase the "screen printing sample kit." Inside this kit you will find a selection of plastic and glass bottles, available in different finishes, all screen printed in the 17 colors offered. You will be able to enjoy the 14 glossy and 3 metallic shades available and get an idea of the printing performance over the various packaging finishes. With the combination of the "screen printing sampler kit" and the assistance of our team of designers, you will be able to assess the quality of the print and get an accurate idea of how your graphics will fit with your chosen packaging.

Should you not have a custom graphic, our design team is available to help you create a graphic tailored to your needs. Please contact us through the link provided, and our customer service team will provide you with a tailored quote.