Thanks to Stocksmetic Packaging you can have your own sophisticated and design packaging without the necessity to buy large quantities: the minimum order starts from a box, and thanks to our new logistics center you can receive your products wherever you want in a short time, from 3 to 5 working days.
Our company also delivers across Europe, the United States and Canada and allows you secure payments with PayPal, Credit Card or Bank Transfer.
How to buy bottles and jars for cosmetics with just one click!
To buy our products, just go to the website and first of all choose the bottle or pot best suited to your needs: you can range from the Fragrance line to the Skincare line, opt for products in the Make-up or Pharma category, or buy the elegant containers for environment perfumers of the Home Fragrance line. To create a complete line of beauty products and choose a coordinated packaging for each item, the Collections section offers ideas and suggestions to inspire you and start creating your own personalized line with a few simple steps.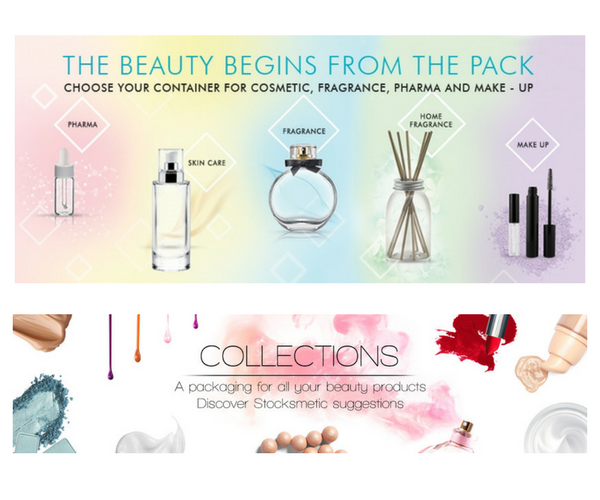 Just after choosing which product is right for you, decide how many boxes to buy: but remember the pot or bottle you have chosen doesn't even include the accessories, you will add them to make your pack unique and exclusive!
To do this, simply select them from the product page of the bottle/vase: by scrolling down you will find capsules, pumps, rings, etc., all the accessories necessary to complete your pack, thus customizing your product line. Each product sheet contains both the information of each item chosen and all the accessories that can be combined to create complete and personalized combinations that suit your style.
Once you have completed your item with its accessories, the price of the completed product will immediately appear with and without VAT, and by selecting the number of boxes you wish to buy, you will see the price updated.

Once you have chosen your products and completed your selection, just click on the "Go to cart" button: here you can apply a discount code if you own it, and by entering the Country and shipping code, you can get an estimate of shipping costs. Now you're ready to complete your purchase: the last step is to create your account and thus provide all the data for shipping and billing your order!
How to request a sampling of product
Choosing the right packaging for your products requires care and attention to details: the packaging will enhance your perfume or cosmetics line, giving a greater identity to your company and brand. That's why you can request a sample of each item on our website. Choose the product you are interested in and select the right button SAMPLE REQUEST: with only 5€ + VAT and shipping costs you will receive 3 pieces of each item you have chosen. Remember also that by selecting "Add to cart" you will buy only 3 samples of this product and that to purchase accessories, just visit the related section and repeat the process!
Stocksmetic Packaging: don't miss out on the latest news!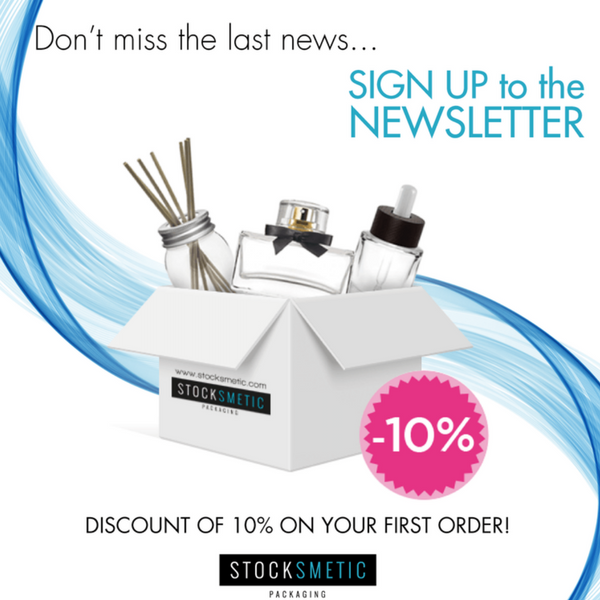 Would you like to stay up updated on the latest news about Stockmetic and our new products? Subscribe to our newsletter you will receive a 10% discount on your first order: please enter it in the section "Do you have a discount code?" and it will be applied immediately.
Do you have any other questions? Check out our FAQs or write to [email protected] or send us a Whatsapp to +39 335 6803758: our Customer Care is at your disposal for information or assistance on your orders!