Used mainly as a light source in the past, the candle has changed dramatically over the centuries. Today candles are more and more furnishing accessories with a decorative value, used above all to create suggestive atmospheres and to perfume the environments with your favorite essences.
If scents, aromas, and essences are excellent products for the home, a candle in the bedroom is perfect. What may seem like a legend is a fact confirmed by science: by spreading the bedroom with pleasant delicate aromas it will be possible to make wonderful dreams. The discovery of the German scientist Boris Stuck, presented at the annual congress of the American Academy of Otolaryngology in Chicago, supports the existence of a link between smell and sleep. The smells, in fact, seem to influence what you dream: the unpleasant ones induce ugly dreams, vice versa gentle fragrances favor more beautiful dreams.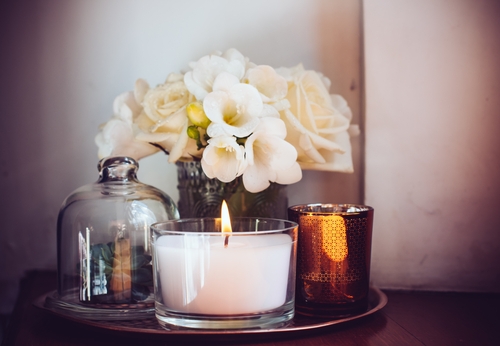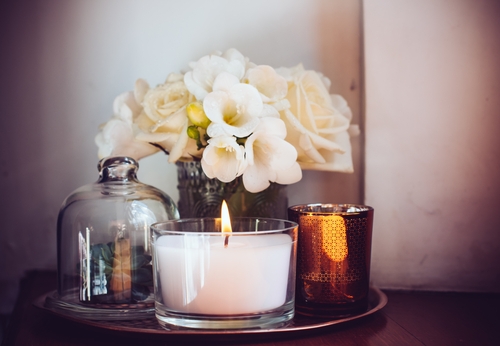 That's why we should not underestimate the power of perfume: not only what we wear, but also what we surround ourselves with. The combination of olfactory notes is able to harmonize mind and body causing sensations of serenity. This is what happens as soon as we light a scented candle, a product that occupies an increasingly important place in Italian homes: heating the atmosphere with infinite fragrances has now become a real design object, a furnishing complement, to create a cozy and relaxed atmosphere.
The candles are fundamental in aromatherapy but also in chromotherapy: thanks to the light that filters through the candlelight, it is possible to create very suggestive color games, as well as infusing excellent fragrances for the ambiance.
Scented candles: interior design and aromatherapy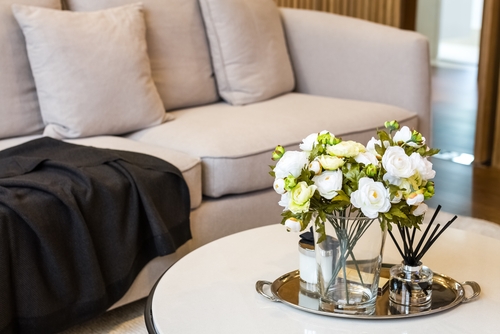 The scented candles give the rooms a pleasant and delicate scent, are elements of interior décor of great trend and accessories for the house that give originality and elegance. But their maintenance is not as simple as that of a common spark plug. Each perfumed candle, especially if handcrafted or of niche perfumery, is an object of great value and as such needs specific ways of use.
When a candle is extinguished, it is spontaneous to blow: in general, it is a mistake to avoid because blowing on the flame causes smoke that completely eliminates the scent that had spread in the room. The correct way to extinguish a perfumed and precious candle is to use an appropriate cap or alternatively a moistened toothpick and lower the wick until it is turned off by soaking it for a short time in the wax.
Another small thing: to keep the fragrance alive and intact at each ignition, and not to alter the quality of the scent of the candle, it must be burned for cycles of at least 2 hours each.
Glasses and packaging for perfumed candles: how to complete your Home Fragrances line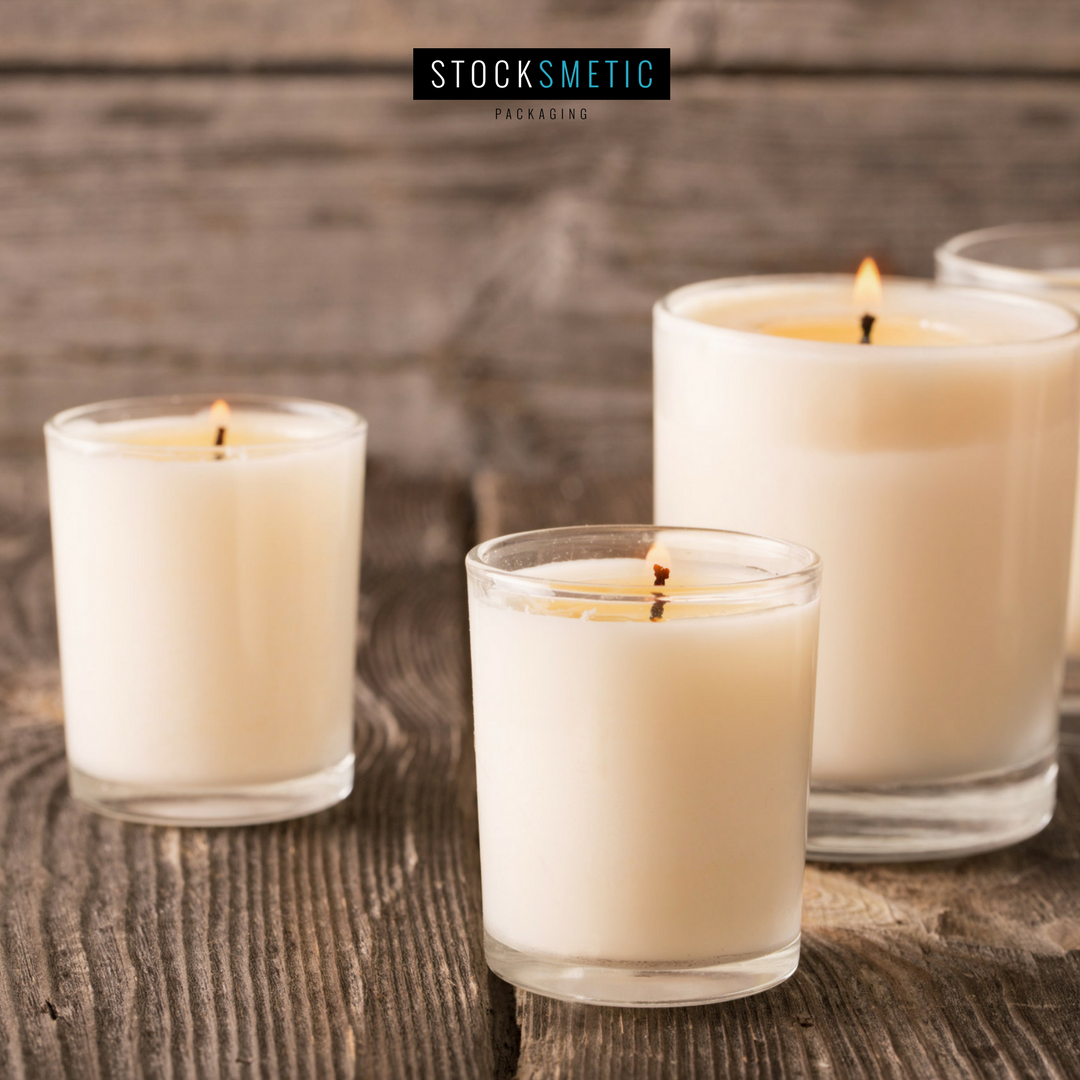 According to the survey of The Npd Group, home fragrances are a really important opportunity for cosmetic companies. Room diffusers, perfumed candles, but also oils and sprays for beds, wardrobes and drawers, represent a very interesting branch of the perfume segment. The analysis carried out by the market research company mainly refers to the United States, but the Italian situation is not different. In our country, in fact, in recent years, the use of perfumed candles has become a real boom, not surprisingly, the most important companies in the sector have already focused on products such as perfumed candles, diffusers and essential oils.
On the basis of this data, our online store has introduced two new products in the Home Fragrance Line: the candlestick glasses designed for all those who want to expand the product range by adding perfumed candles with a packaging with an elegant design.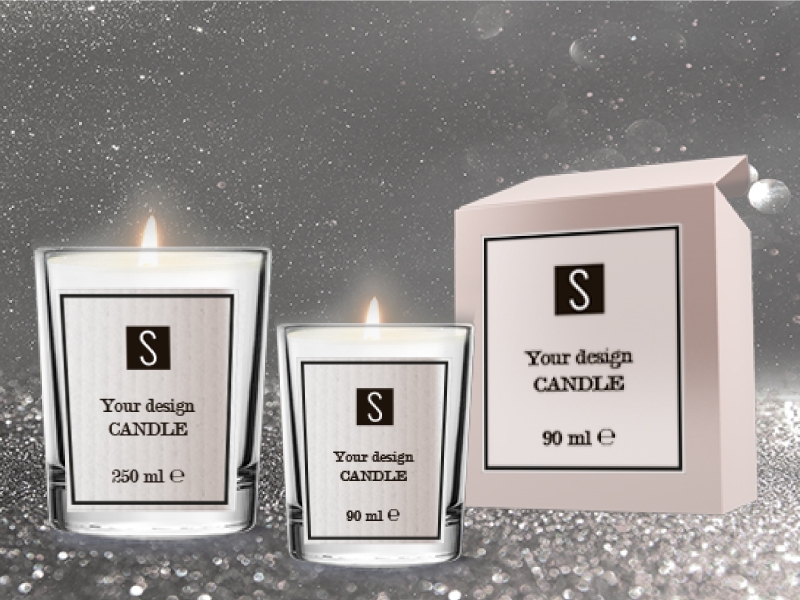 Stocksmetic's Home Fragrance collection is enriched with two new products designed for those who wish to complete their range of fragrances and perfumes: the glass candlelight cup with a capacity of 90 ml, and the larger version that can contain up to 250 ml of wax. This Stocksmetic line dedicated to home fragrance is renewed with two new proposals designed for all those who want to expand the product range by adding perfumed candles with a packaging with an elegant design.
The new candlestick glasses on our online store can also be customized and combined with boxes and labels customizable with your own logo and graphics: a complete service to be able to create and customize your own line of candles.