Who never had a déjà vu from your childhood going back to your grandparents' home? This is one of the many examples explaining the importance of our sense of smell.
Thanks to our olfactory memory, a particular scent may become a very distinct trait of a house and the people who live in it day in and day out. Our home, as well as being beautiful to our eyes, should also smell "like us" as it reflects our inner self. The fragrance should be in harmony not only with the spaces but also and most of all with the person living it, enhancing us to live our house fully and at best. The concept of "Olfactory Design Space" has started shaping up and looking for the right fragrance for the different rooms in our home is becoming more and more popular. The entrance, for example, may have a fresher, lighter fragrance for a joyful welcome; in the study, fragrance combinations that facilitate concentration are chosen; and finally, for the bedroom, softer olfactory notes are preferred to create a nice cuddle before sleeping.
"Nothing wakes a memory like a smell," wrote Victor Hugo, and indeed the sense of smell is one with a "long memory".
Your own home fragrance line with Stocksmetic Packaging
Globally, the home fragrance sector has been fast growing in recent years, with sales in the US increasing by 13% just in 2020, according to NPD Group. The more this trend grows, the more the choice of home fragrances grows with it and many brands are launching their own ranges to respond to the demand.
Stocksmetic offers you the possibility to create an exclusive line of home fragrances in elegant glass and plastic containers equipped with capsules, stoppers, ferrules and wooden sticks to scent all kinds of rooms.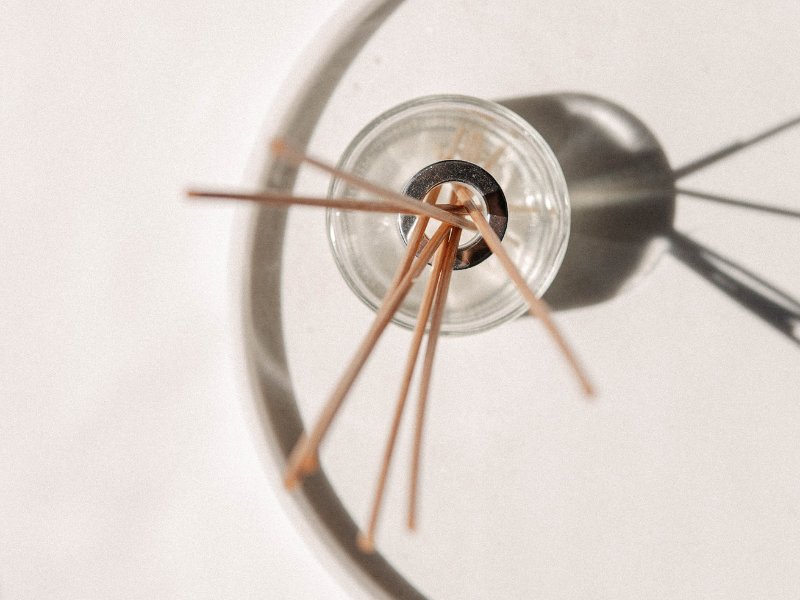 The 200 ml Cylindrical bottle made of clear glass with its matching gold or silver ferrule is a best seller, loved by all of our customers.
In addition, Stocksmetic has created the Home Fragrance collection where you will find many other ideas to finish off your line, including the Essentia 100 ml, 200 ml or 500 ml bottles to be completed with natural white or black sticks and stoppers.
Discover all the Stocksmetic home fragrance packaging in our e-shop: you can also customise them with your logo and graphics thanks to our cases and our screen printing service.