Mair Botanics comes from the encounter between the finest natural essences and the inspiration and experience of the perfumer Susanne Mair. Her passion for the world of fragrances, grown during her travels in India and in the East, has become the mission of Mair Botanics, whose aim is to give customers a unique experience that involves all the senses.
First of all, of course, the sense of smell. 14 families of fresh, intense and enveloping fragrances created by Susanne Mair with a careful selection of the best raw materials. 100% organic and natural extracts and essences rich in therapeutic properties.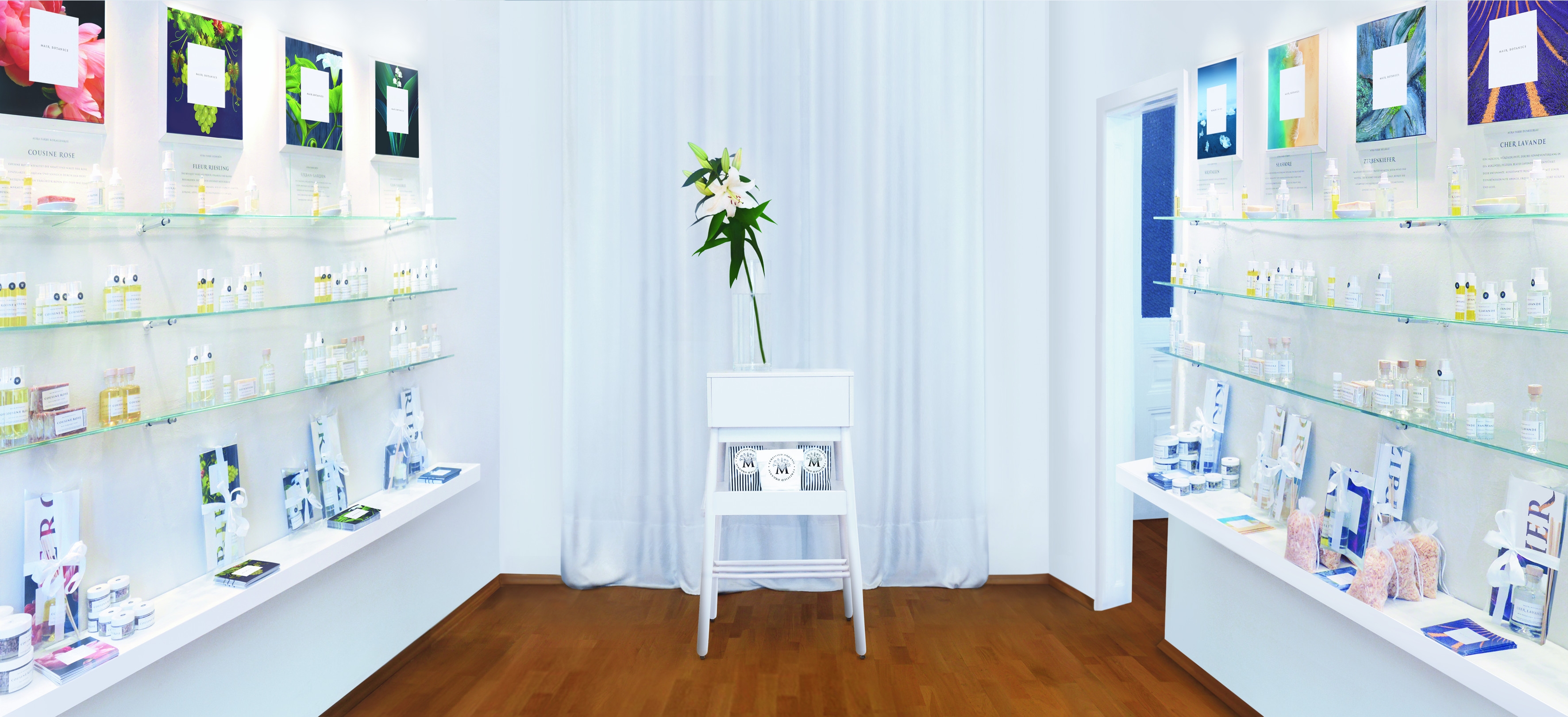 Each fragrance creation is bio-certified, as it contains only natural ingredients according to the highest quality standards.Natural ingredients extracted from plants, herbs and flowers awaken senses, delighting the smell and evoking dreamy worlds. Mair Botanics compositions also have precious therapeutic and aromatherapy properties, restoring harmony to body, mind and soul.Mair Botanics combines experience, knowledge of the finest raw materials and passion for botanical and fragrance world. But it is also a point of reference for those who choose a sustainable lifestyle without relinquishing aesthetic design.Mair Botanics store, design and packaging have been designed by Susanne Mair and her team in collaboration with designer Yvonne Diedrich in order to reflect this philosophy.
A sinesthesia of colors and fragrances that you can find in the elegant Mair Botanics Store in Wien, a kind of art gallery which displays the 14 families of fragrances and their visual representations on canvas.The brand's design combines white and minimalist shapes with opulence and intense colors of lush flowers and plants.
Also for its packaging Mair Botanics has chosen an elegant, unique and sophisticated solution, relying on Stocksmetic Packaging experience. The explosion of emotions and fragrances contained in each bottle is naturally balanced by the essential and refined shapes of transparent glass bottles.Among the wide range of Stocksmetic perfume glass bottles Mair Botanics selected the Heavy Perfume glass Bottle in 15, 50 and 100 ml sizes combined with the Ice spray pump white glossy with cover for a minimal yet elegant look and Roller Glam Bottle 15ML clear glass with Cap.
Find out all the cosmetic packaging lines designed by Stocksmetic for your fragrances but also for skincare and pharmaceutical products. You can choose the best solutions tailored to your packaging needs.