The barber: a timeless craft
This craft has ancient origin, more or less around the Middle Ages. The "barber pole" is the distinguish symbol of the barber shop. All over the world you can recognize this shop thanks to the colored pole with a spiral of red and white stripes, in the American version is also blue; a signal that warned that the barber not only cut beard and hair, but also offered medical services.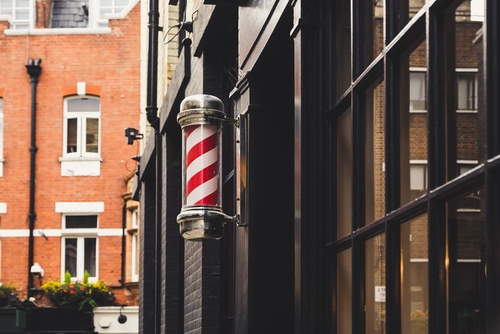 After 1700, the figure of the barber has evolved several times. In the 50s and 60s, the barber shop became the masculine place par excellence because the care of beard and hair was a fundamental routine. During the eighties, this profession has lost its importance because of the arrival of unisex hairdresser. Only in the recent years the barber has gained back its significance and are not more an unreachable places, but conversely you can find it without many problems. Moreover today these shops offer many healing treatments for beard and hair, along with specific cosmetic products and lines.
Barber Shop: increasing numbers
In Italy, according to the Centro Studi di Cosmetica Italia, starting from 2013, the number of barber shops has increased by 70%. In 2015, the men's sector generated 30% of global beauty sales, with 163 million approximately spent on beard products and 350 million on perfumes, an increase of 2.7% compared to last year, which is estimated to rise by more than 8% at the end of 2017. The barber shop is a growing phenomenon and it is reaching innovative and sophisticated forms and services. In fact, besides the treatment of beard and mustache, they are introducing new products, such as definition gel, softeners and soapshe highest quality, which help to customize the service.

Containers for Barber products
This is why Stocksmetic has created the linea Barberia, a new collection that offers a series of bottles and jars with a unique and refined design, designed specifically for men's cosmetics products. The design of these containers is perfect for companies or barber shops that want to create their own line. We offer both plastic and glass bottles to contain shampoo, conditional and oil pre-treated and glass and aluminum jars for waxing and shaping pastes. With this exclusive collection you can create your own product line from scratch, customizing it at 360° degrees thanks to the wide range available: starting from bottles and jars, up to the creation of snails and labels with logos and graphics without additional costs of plant and start-up.
Suite Barber Shop: the new trend arrives in hotels
The openings of luxurious barber shop are multiplying, an example is Barberino's, where North American barber shop and Sicilian barba rooms merge and create a magical atmosphere. Nowadays also the Luxury Hotels and the Cruise Ships are deciding to approach this world. In fact, in the wake of the recent boom in the Italian barber industry, several hotels have decided to invest in the "Suite Barber Shop".
Are increasing the Hotellerie Made in Italy that have introduced the service of Suite Barber Shop: this craft is going back to its origin, and its becoming the trend of the moment; men hosted in luxury hotels do not have to bring with them shaver, shaving foam and product for the care of beard and mustache. Presently, making your beard grow and wear it in a certain way is more than a stylistic choice, because it is becoming a characteristics of a life choice. After more than a decade, where the trend was the man with a glabrous body, now the beard is the masculine accessory par excellence: from the pointed beards reminiscent of Pharaohs to the thick and viril ones used in Greek and Roman times, today the charm of barber shops with a vintage flavor is coming back.
Movember: the prevention campaign involving beard and moustache

The appointment with Movember is renewed also this year: this Anglo-Saxon term comes from the merger between "mustache" and "November" and it is used to indicate the campaign that since 2003 has been held to raise men's awareness on topics such as prevention and early diagnosis of prostate cancer.
There is an invitation to all men participating in this important and awareness campaign in order to dissiminate and to promote it: for a month they are asked to make their mustache grow and take care of it and share on social networks growth and snacks, talking to acquaintances, friends, colleagues and asking them to participate in the initiative and provide a contribution through the platform "ex.movember.com".
The aim of this campaign is to increase awareness, in particular among young people, of the benefit to adopt a healthy lifestyle for avoid any type of disease, by contacting the doctor for any infectious disease.