We are proud to name, among our customers, Isha Cosmetics, a brand that pays great attention to the biological cycle of the natural ingredients implemented in its cosmetics: the name Isha, in Arabic, means 'Life' and emphasises this very characteristic of the brand. As a matter of fact, Isha Cosmetics was born from a passion for plants, oils and the best that Nature has to offer. Combining Oriental tradition with modern organic and natural cosmetics, Isha Cosmetics offers high quality products that respect the Environment.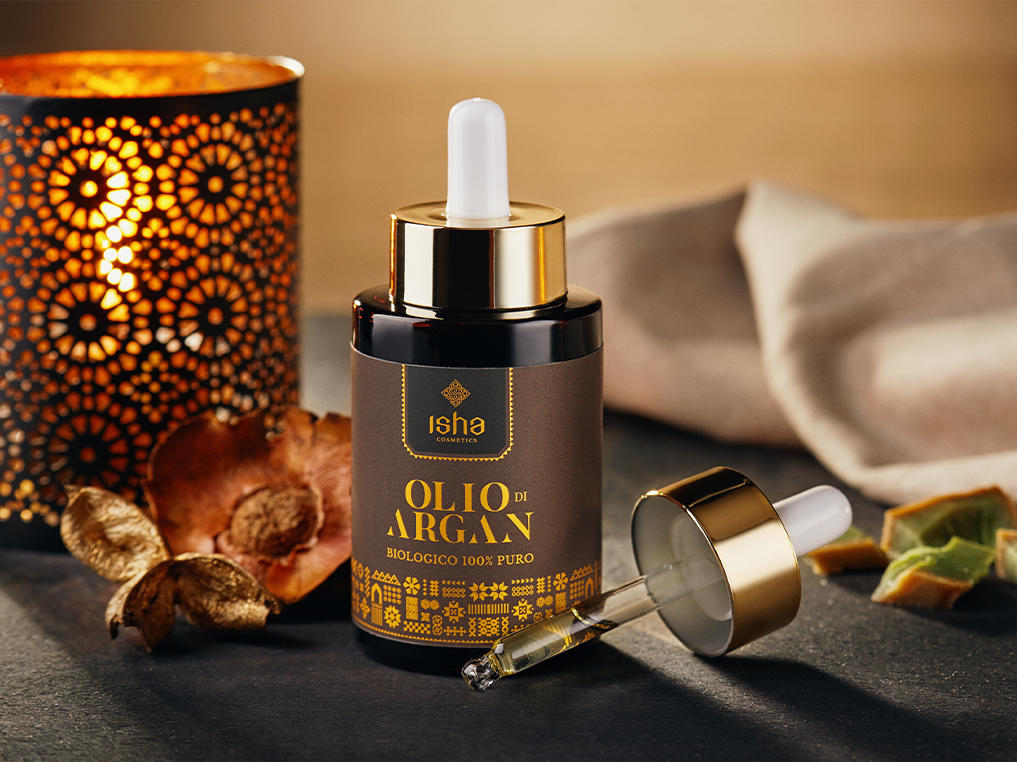 Amber-coloured packaging for cosmetics with oriental notes
The Padua-based company has chosen for two of its flagship products our Heavy bottle in clear glass with an amber finish for a sophisticated result that is reminiscent, thanks to its design and colour, of the Arabian Nights.
100% natural, vegetable-based Argan oil can be found in our Heavy 50 ml bottle combined with the shiny gold dropper. This is an oil with strong antioxidants, nourishing and healing properties without being greasy. Excellent not only for dry skin, brittle hair and nails but also as a carrier for face and body creams. Isha's Prickly Pear oil, also obviously 100% natural and vegetable, has found home in our Heavy 30 ml bottle, matched once again by its shiny gold dropper that is the accessory par excellence for natural oils and serums. Obtained by cold-pressing the seeds of the Opuntia ficus indica, this precious oil thoroughly moisturises and nourishes the skin, preventing the formation of wrinkles and giving firmness and elasticity, thanks to its noble properties. It can be used on the face, body and nails without being greasy.
The strength of Isha Cosmetics is the care with which it manages the entire production process for environmentally conscious and eco-sustainable cosmetics, from the use of ingredients to the choice of packaging, thanks also to our team.