How many hours do we spend in front of the computer? How much time do we spend in front of our smartphones between social networks and search engines? Not everyone knows that the blue light from these devices can, in the long run, be harmful to the face.
The use of mobile phones and computers is very useful (just think of remote conference calls), but it has consequences for the health and beauty of our complexion. If you experience increased skin fatigue, dry, often scarred and tired skin, know that your skin is most likely slowly suffering the effects of ageing due to blue light.
This is an artificial light source typical of the screens of digital devices that can damage not only the epidermis but also our eyes. Blue light also exists in nature, but the really 'dangerous' blue light comes from the various devices we use. What does this mean? Blue light acts on skin cells, altering and damaging the skin process. The skin tends to lose its firmness and expression lines and wrinkles begin to form. What can be done? If technology is ageing your skin, you need to take action and implement various ways to prevent and control the possible damage. Firstly, limit exposure time and lower the level of brightness, and try to keep device screens as far away from facial skin as possible. Finally, treating the skin on the face with specific treatments will help us to further protect ourselves.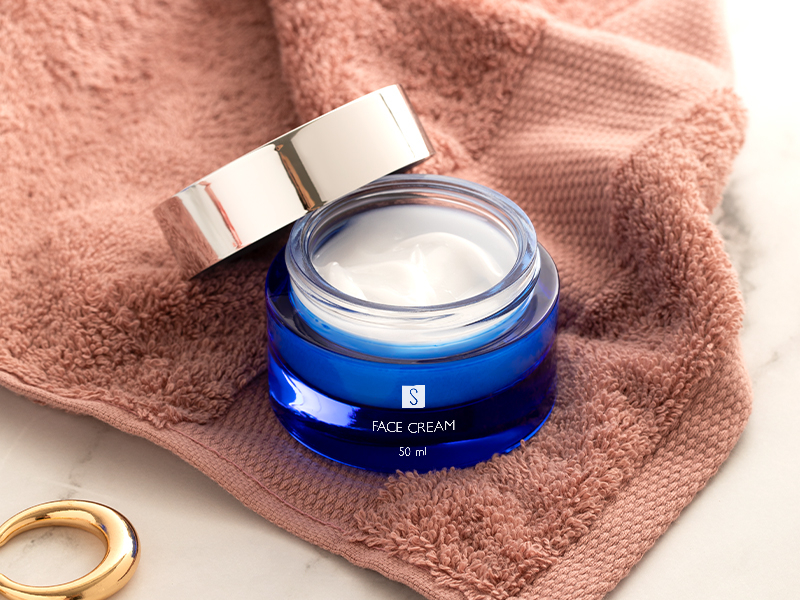 Create your own anti-blue light cosmetics line with Stocksmetic
If you want to create a skincare line based on BLB (Blue Light Barrier) formulations there is no better collection of packs than Blue, by Stocksmetic of course.
Let's start with the must-have face cream: in the 50 ml Luxe jar in semi-transparent blue glass you can store a multi-action face cream that protects your face not only from HEV (high energy light from electronic devices) but also from UV rays.
To complement the cream, you could design an antioxidant serum that neutralises the damage caused by blue light and pollution. For this type of product, the 30 ml Heavy bottle in semi-transparent blue glass is the perfect pack for you. With its silver dropper, adding a few drops of the treatment to your face cream will be a breeze.
Let's not forget the eye area - the most sensitive part of the face. Blue light can seriously damage this area and creating specific treatments is essential: conceive specific treatments: bag correction, wrinkle correction, anti dark circles and anti signs of fatigue.
Finally, it is also good to think about our eyes, which are subjected to altered light on a daily basis and can cause burns. The 15 ml white plastic Drop bottle is perfect for a refreshing eye drop for tired eyes, formulated to help counteract the effects of modern life. You can personalise the 15 ml Luxe blue glass jars and your entire BLB collection with our screen printing service.