Our company, always attentive to new market trends, offers a wide range of packaging that can be purchased online in an easy, intuitive and fast way.
All our bottles and jars are made to meet the needs of our customers, thanks to the use of high quality materials and the practical and innovative design that distinguishes each pack.
How to buy the packaging on our website
First of all, it is necessary to identify the type of packaging you are interested in.
If you need perfume or home fragrances bottles, we have a wide choice of glass and plastic packaging in the Fragrance and Home Fragrance sections to create a complete perfumes line. If you want to create a collection of creams, other formulations dedicated to face and body or aqueous solutions, the Skin Care and Pharma sections will be your point of reference. Finally, if you are looking for the ideal packaging for your make-up line, you should visit the Make-up section where you can find the perfect containers for your products.
Once you have identified the macro category that most interests you, you can view the product catalog and select the most suitable pack for your formulation.
In addition, you can choose the most suitable accessories and match the secondary packaging, selecting boxes and labels completely customizable with your own logos and graphics.
After choosing the pack, you can indicate the quantity of pieces you want and add them to the cart. If you want to see the product before purchasing, you can request a sample: you will receive 3 pieces of the packaging and each accessory selected.
You can also order the Sampling kit with boxes and labels that will allow you to touch all the different finishes.
How to calculate shipping costs before purchase
To proceed with the purchase and to know the costs, just add the products chosen to the cart: at this stage, you can have an estimate of shipping costs and VAT, simply by entering the country of destination and the zip code.
At this point, you can choose between two options: shipping by courier or picking up at our warehouse. In both cases, the goods will be prepared and packed and then transported according to the selected method.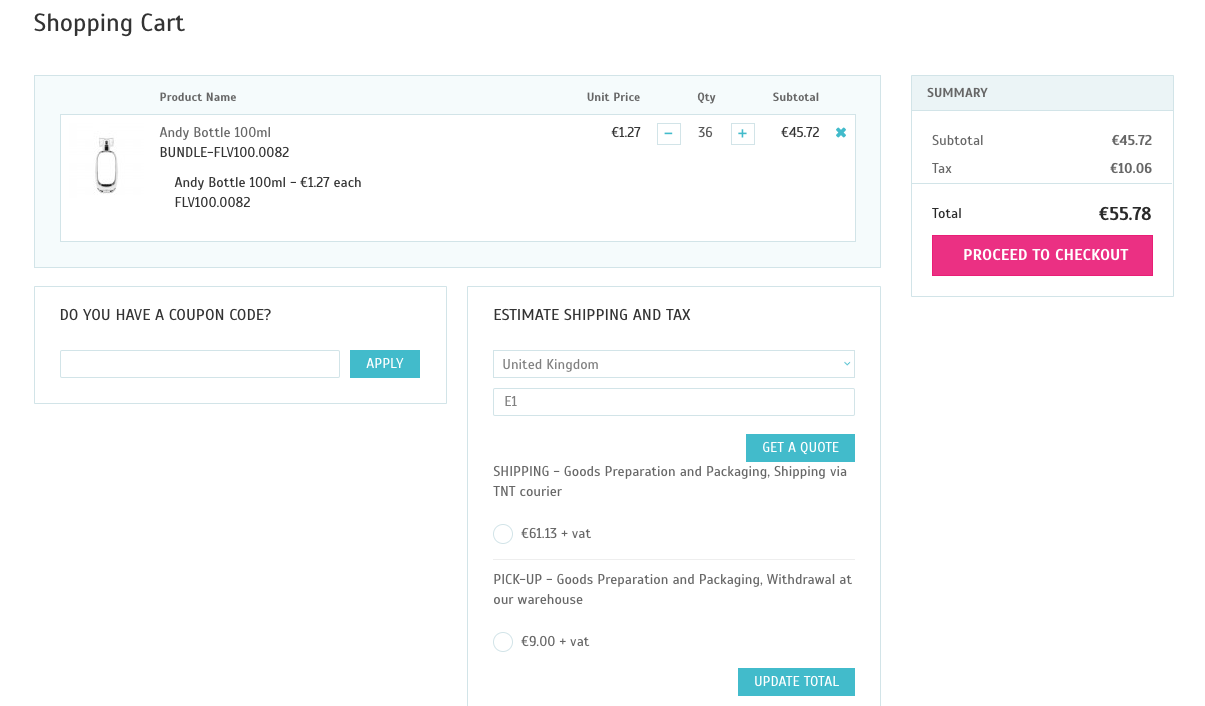 Finally, to complete the purchase, you must click the "Proceed to Checkout" button and register on the site if you have not yet done.
Make your pack unique and special with a few simple clicks, thanks to the total transparency and freedom in choosing costs and shipping methods that best suit your needs.