We live in a hectic world in which our skin needs to protect itself against many environmental influences such as UV radiation, pollution, wind and weather. Even our personal lifestyle, stress and the body's own metabolic processes affect our skin condition every day. Through exercise and healthy eating, we make sure to stay fit far into old age - but we also want to look that way. Therefore, the Nikolaihof Wachau, Austria, developed a range of Demeter-certified skincare products, which supplement your skin daily with their bio-dynamic, highly concentrated ingredients. The high concentration of grape seed oil is rich in precious antioxidants that, together with selected and hand processed ingredients, support your skin with the power of nature.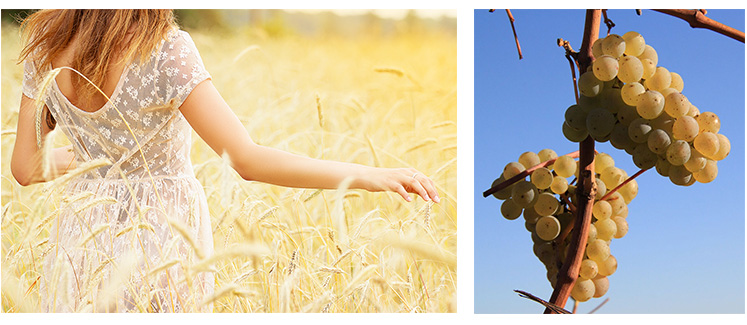 "dieNikolai" is the youngest family member of the winery Nikolaihof Wachau, a special place with almost 2,000 years of history. With high-quality resources and love for nature, quality products have been made here for centuries. For more than 40 years, the Nikolaihof has followed the anthroposophic philosophy of Rudolf Steiner, as one of the first wineries worldwide. Certified by Demeter, it meets the world's strictest standards in bio-dynamics and the winery is proud to count themselves among the pioneers when it comes to quality and sustainability. The bio-dynamic agriculture at the Nikolaihof is not only understood as production method, but as a holistic way of being that is reflected in all areas of life. The overriding principle is to focus on putting strength and energy into agriculture by intervening as little as possible in natural processes.
The raw materials for the skincare products are from certified bio-dynamic agricultures, carefully processed by hand, while palm oil emulsifiers and paraffin are completely avoided, without compromising either quality or texture. Often use raw materials are used, whose positive effects on skin have long been forgotten. Many of those resources are now replaced by modern laboratory products, which is sad, because there are fascinating plants in the Wachau vineyards and the entire region. By using these unique raw materials from certified Demeter cultivation - turned into elegant textures it supports your skin's natural strength while leaving as little of a footprint in nature as possible.

The main purpose of natural skincare with highly concentrated pure ingredients is to support your skin against negative external influences. In the skincare range of "dieNikolai" you will find products for different skin types and needs, which can be combined differently to address the individual demands of skin. All products are formulated using traditional, regional ingredients without the use of palm oil, paraffins or silicones. Additionally, "dieNikolai" deliberately abstains from the use of common raw materials, such as shea butter, and focuses instead on traditional approaches using local ingredients such as cream or butter oil.
All care products are based on a high concentration of my precious grape seed oil - a true miracle of nature. It is especially known for its high proportion of antioxidative polyphenols, including resveratrol and tocopherol. Antioxidants neutralize free radicals and help your skin protect itself against harmful external influences. Additionally, grape seed oil is regenerating, strengthens your skin's natural barrier, supports its cell renewal process and preserves the sebum flow, which makes it suitable for all skin types. The linoleic acid it contains enhances the skin's suppleness and flexibility. In addition to its other positive effects, the oil also serves as a vehicle for lipophilic active ingredients. Thus, the ingredients of your care can penetrate deeply into the epidermis and unfold to their full potential.