Also known as 'blue gold', lavender has infinite qualities, some better known than others. For example, not everyone is aware that as well as having antiseptic, analgesic and bactericidal properties, it is also an excellent mosquito repellent. Lavender, however, is more popularly known for its relaxing, balsamic and balancing nature, which makes it one of the most widely used essential oils in the world of cosmetics, both in skincare and in the field of aromatherapy.
A common plant in the Mediterranean and with an unmistakable scent, lavender was already in use in Roman times. The Romans were aware of its characteristics and used it in thermal waters and infusions for oily skin and hair. This virtuous plant is so versatile due to the presence of linalool in its flowers and leaves, a chemical substance that is especially calming to the central nervous system. It is no coincidence that lavender is perfect for combating insomnia and stress in a natural way.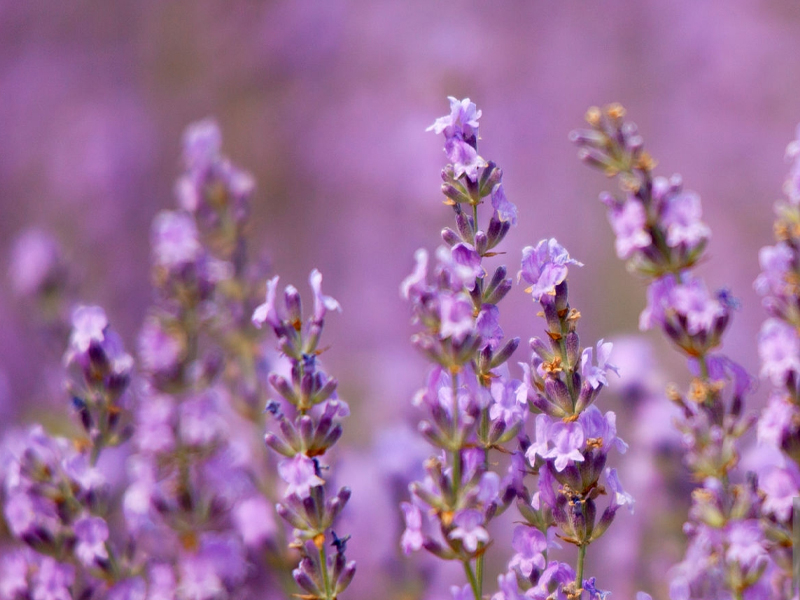 Lavender essential oil
For these reasons, lavender essential oil is used in a variety of skincare products. Having a purifying function, lavender fights against the appearance of pimples and acne for combination or oily skin. At the same time, its toning and brightening action also helps the skin regain its firmness and maintain a healthy complexion.
Last but not least, the scent of lavender is one of the best known.
In the world of perfumery, lavender is a key ingredient for relaxing sprays or room scents, and at the same time it is used in women's, men's and unisex Eau de Parfum. This essential oil is at its most potent when sprayed on pillowcases and sheets before bedtime to prepare the mind for sleep.
Whether you want to create a cosmetics line, a perfume or a calming room fragrance, do not forget to include the blue gold that Mother Nature provides. Enter the world of Stocksmetic Packaging and discover our new section of essential oils designed for the creation of all your beauty and perfumery products.
For a strong effect, we recommend Crystal Palace: in this essential oil designed for men's eau de parfum, lavender is the heart and releases all the delicacy of the perfume together with spicy cinnamon, plum and intense orange blossom. Fresh Lavender, on the other hand, is the ideal choice for those who want to create a room fragrance that instils serenity. Here lavender together with aromatic pine creates an aroma of total relaxation, followed by the freshness of mint. The relaxing and refreshing effect is also ensured in its spicy notes, which come from the heady cedarwood that complements this exceptional essential oil!