The summer and the long days spent under the sun are over, it's time to change your beauty routine to prepare your skin for the coldest months of the year.
Low temperatures and wind are among the first enemies of the skin, so it is important to prevent dry skin starting with exfoliation and nutrition.
Using a weekly scrub will remove dead cells and regenerate the skin: after this fundamental step, it is recommended to apply a cream with a rich and full-bodied texture based on natural ingredients such as shea butter.The results will be surprising: an immediately brighter and healthier face.
Serums are recommended to be applied around the eye contour to make the face more relaxed, eliminating dark circles under the eyes. If you live in the city, it is also important not to forget to use anti-pollution cosmetics against smog that makes the complexion duller and grayer. In this case, there are face creams and sprays to apply during the day and detox masks, capable of removing fine dust residues.
During the evening, to complete your beauty routine in the best possible way, it is recommended to remove impurities and traces of make-up through a deep cleansing of the skin. Cleansing mousse and tonic are among the most recommended products, as long as they do not dry the skin and have an oily base.
A complete packaging line for autumn/winter skincare products
Rely on Stocksmetic and create a packaging line for design and high quality cosmetic products: in our website you will find a wide range of bottles, jars and accessories suitable for different types of formulation to be customized with your brand logo through boxes, labels or screen printing service.
For a moisturizing cream line based on natural ingredients, the 50 ml Miracle jar is the perfect choice if you don't want to give up elegance and practicality.
If you want to choose a more versatile container, the 15 and 30 ml Sky bottle combined with the Sky cream pump or dropper is ideal for both face creams and serums.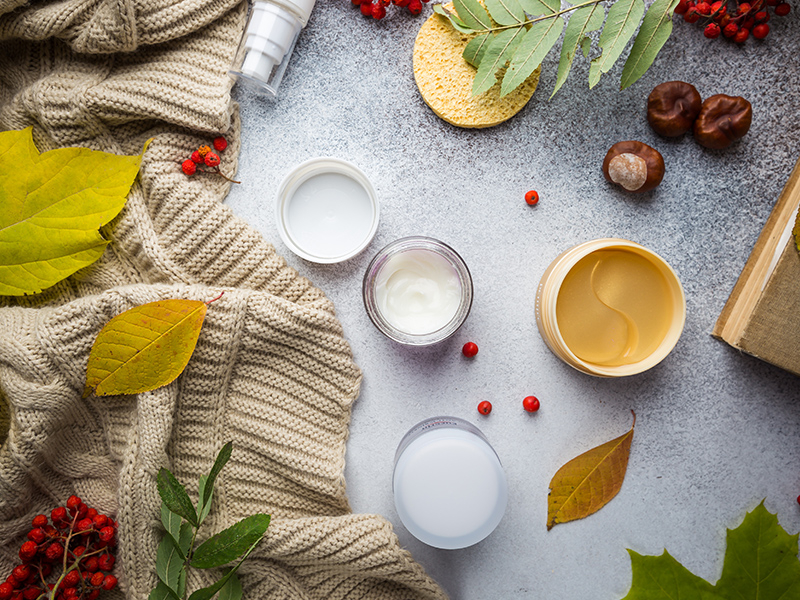 In the case of masks and face scrubs, the Pure Green jar is the most suitable solution, especially if they are natural and eco-friendly products.
Finally, the 150 ml Foamer and Pure bottles are recommended respectively for cleansing mousses and face tonics, thanks to their practicality and ease of use.
Visit our e-shop and let yourself be inspired by our packaging collections: our customer service will be at your complete disposal to support and help you in choosing the most suitable packs for your beauty products line.